Apartment Hausjell - Bad Goisern am Hallstättersee
Apartment Hausjell - Relax and recuperate in our 120 square meter apartment. Holiday in the World Heritage region of Hallstatt / Dachstein Salzkammergut at its best! Book online now!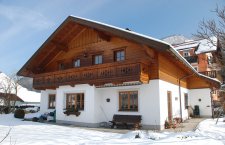 Unfortunately we could not find any free accommodation for the selected period (24.11.2017 - 26.11.2017)
1 rooms or packages available at a different date:
Ferienwohnung Hausjell
from € 60,00 per night
Facilities
Sanitary: Windowed bathroom, Separate lavatory, Towel dryer, Shower, Bathtub, Washbasin Location: Garden facing, Mountain facing, Main building, New building Equipment: Balcony/terrace, Double bed, Dinette, Towels available, 2 bedrooms, Baby cot, Bed linen available, Windows possible to open, TV, Separate mattresses, Coffee and tea cooking facilities, Coffee machine, Kitchen unit, Refrigerator, Studio couch, Toaster, Internet access in room, Mirror, Dishwasher, Oven, Cooking unit, Separate kitchen, Microwave, Seating, Dish and kitchen linen available, Ironing board, Internet TV, Size in sqm
Welcome to the Hausjells.
Our apartment in Bad Goisern on Lake Hallstatt is about 120 square meters and includes everything you need for a carefree holiday in the World Heritage region of Hallstatt / Dachstein Salzkammergut. From the balcony you can survey the entire Goiserer valley and due to its central location you can enjoy the sun from early in the morning until late in the evening.
The center is only about 15 minutes walking distance; to the nearest bus or train station you will need 5 and 10 minutes respectively. Restaurants, coffee shops and supermarkets are in the immediate vicinity. A large event program in the region provides a variety of entertainment! Our apartment is also the ideal starting point for hiking in the holiday region of Hallstatt / Dachstein Salzkammergut. In winter the free ski bus, to the ski area Dachstein West and the Krippenstein Freeride Arena, is only 5 minutes walking distance. Everything you need!
Make yourself at home!
Our apartment around Lake Hallstatt - for up to 5 people – has the following features: 2 bedrooms, 1 living room, kitchen with dishwasher and microwave, bathroom, toilet, sunny balcony and sun deck area, satellite television, baby cot on request, pets allowed – but please contact us beforehand. Table and bed linen are provided.
Facilities
Location
Outskirts
Rural area
Distance to next public transport station (in km): 0.1
Distance to next train station (in km): 3
Distance to next ski lift (in km): 13
Service
No board included
Parking area
Ski cellar
Bike storage
Equipment
Baby cot
Balcony
Familial ambience
Breakfast room
Comfortable ambience
TV-room
Internet usage possible
Book Apartment Hausjell now!
Conditions / Extras
Conditions/extras
Arrival and Departure
- Arrival: from 2.00 pm 
- Departure: by 11.00 am 
Payment
- Town guest tax and end cleaning calculated extra
- Upon booking we ask for 30% of the total price as a down payment
Others
- Pets and breakfast roll delivery upon request
Your free holiday adventure card!
A holiday, in the UNESCO World Heritage region of Hallstatt Dachstein Salzkammergut, is now twice as rewarding: Enjoy unforgettable experiences and save at the same time! How does this work, you ask? With the Salzkammergut Adventure Card or the Salzkammergut Winter Card. - Depending on the season! These cards are free, when staying for three nights or more and are available from numerous accommodation establishments as well as in the four tourist offices of the Dachstein Salzkammergut holiday region. This will turn your summer holiday in Bad Goisern, Gosau, Hallstatt and Obertraun, into an unforgettable experience! Here is an overview of the attractions and leisure activities where you will receive a discount with the Salzkammergut Adventure Card or the Salzkammergut Winter Card! We wish you relaxing holidays between mountains & lakes within the World Heritage.
Always well-informed
When is the next cable car to the Dachstein Plateau in Obertraun? When does the next sightseeing ship depart from Hallstatt? With the four tourism platforms of the UNESCO World Heritage site of Hallstatt Dachstein Salzkammergut // www.hallstatt.net // www.bad-goisern.net // www.obertraun.net // www.gosautal.net // you will always stay up-to-date on current hours of operation, itineraries and more. If you'd like to use this information for during your stay in the holiday region of Dachstein Salzkammergut, then we would suggest that you save the appropriate website of your holiday destination in your favourites list on your smartphone or tablet. Then, you will always be informed during your holiday in the Salzkammergut. We hope to see you in Hallstatt, Gosau, Bad Goisern and Obertraun!
Holiday in Bad Goisern on Lake Hallstatt
The wide and charismatic valley of Bad Goisern stretches out from Hallstatt in the south to Bad Ischl, the summer holiday resort of the emperor in the north. Discoveries dating back to the Stone Age and the Hallstatt period enable us to establish that there was a close contact with villagers from the surrounding regions. The wood and agriculture industry developed very early in the wide fertile valley of Bad Goisern, to supply the mine in Hallstatt. This is how Bad Goisern is where it is now, on prettiest landscapes of the UNESCO World Heritage region of Hallstatt Dachstein Salzkammergut. This enchanting village used to be called "The Monarchies most beautiful village" and still hasn't lost any of its charm. Among the most beautiful places of interest are the oldest salt mine in the world and the ossuary in Hallstatt, a romantic boat ride on Lake Hallstatt, a trip to the breathtaking cave world in Obertraun and a visit to the Lake Gosau with the mighty Dachstein glacier. Additionally, Bad Goisern is popular in the summer with hikers and bikers. In winter guests are lured in by the ski areas of Dachstein West in Gosau and the Ski and Freeride Arena in neighboring Obertraun with perfect slope conditions. We wish you an unforgettable holiday in Bad Goisern on Lake Hallstatt.
Share the excitement
Give your friends, relatives or acquaintances a little treat and share this page on Facebook, Twitter or Google Plus. Bacause a holiday on Lake Hallstatt is there for everyone!
Book Apartment Hausjell now!