Guest house Sams - Gosau
Family-friendly guest house which can accommodate up to five persons, with stunningly beautiful view on the mountains of the Gosau region.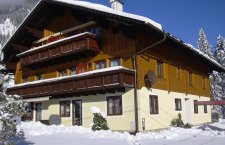 Our guest house is very quietly located, right at the entrance to beautiful Gosautal. In summer, you can go on extensive hiking tours through the entire mountain region of Gosau and there is a large number of walking paths for all those who like to go for short walks. In winter time, the cross-country ski slope is very near and it is also just a short walk to the ski bus stop. You can rent apartments in our family-friendly guest house throughout the year.
Facilities
4 rooms with shower/toilet
satellite TV
one apartment for two adults and three children
big and comfortable living room with kitchen (fully equipped with dishes)
bedroom and children's room (of course, with bed linen and towels provided by us)
shower/toilet
balcony with stunningly beautiful view on the mountains
Prices
Prices per person and day:
Holiday apartment (excl. breakfast)
minimum stay 3 nights 35.- Euro
Breakast: 8.-
Double room (incl. breakfast)
1 night: 40.- Euro
2 nights and more: 32.- Euru
Single room (incl. breakfast)
1 night 45.-- Euro
2 nights and more 40.-- Euro
We are happy to arrange for bread rolls to be delivered or, upon payment of a surcharge, we will arrange for breakfast in our guest house.
Send booking inquiry for Guest house Sams now!
Your free holiday adventure card!
A holiday, in the UNESCO World Heritage region of Hallstatt Dachstein Salzkammergut, is now twice as rewarding: Enjoy unforgettable experiences and save at the same time! How does this work, you ask? With the Salzkammergut Adventure Card or the Salzkammergut Winter Card. - Depending on the season! These cards are free, when staying for three nights or more and are available from numerous accommodation establishments as well as in the four tourist offices of the Dachstein Salzkammergut holiday region. This will turn your summer holiday in Bad Goisern, Gosau, Hallstatt and Obertraun, into an unforgettable experience! Here is an overview of the attractions and leisure activities where you will receive a discount with the Salzkammergut Adventure Card or the Salzkammergut Winter Card! We wish you relaxing holidays between mountains & lakes within the World Heritage.
Always well-informed
When is the next cable car to the Dachstein Plateau in Obertraun? When does the next sightseeing ship depart from Hallstatt? With the four tourism platforms of the UNESCO World Heritage site of Hallstatt Dachstein Salzkammergut // www.hallstatt.net // www.bad-goisern.net // www.obertraun.net // www.gosautal.net // you will always stay up-to-date on current hours of operation, itineraries and more. If you'd like to use this information for during your stay in the holiday region of Dachstein Salzkammergut, then we would suggest that you save the appropriate website of your holiday destination in your favourites list on your smartphone or tablet. Then, you will always be informed during your holiday in the Salzkammergut. We hope to see you in Hallstatt, Gosau, Bad Goisern and Obertraun!
Family Holiday in Gosau
Nestled among the majestic Dachstein, the imposing peaks of the Gosaukamm, the Kalmberg and Plassen lies the Gosau Valley at an elevation of approximately 800 metres above sea level. The romantic Gosau Lake, the hiking area of the Zwieselalm and the Löckermoss bog are considered alongside the comfortable pick-up train and the prehistoric forest park as absolute highlights for a family holiday in Gosau. Rustic mountain huts and gentle mountain meadows stir the souls of every hiking enthusiast. Over 65 kilometres of ski track cause cross-country skiing fans' hearts to beat faster. With 84 kilometres of slopes and 37 modern lifts, both beginning and veteran downhill skiers can find ideal conditions in the ski region of Dachstein West. Romantic horse-drawn sleigh rides, experience-filled snowshoe hikes, adventuresome diving excursions, a plethora of tourism sites throughout the Gosau Valley and a wide selection of free-time activities complete the diverse package of holiday possibilities for both summer and winter. We hope to see you on holiday in Gosau!
Share the excitement
Give your friends, relatives or acquaintances a little treat and share this page on Facebook, Twitter or Google Plus. Bacause a holiday on Lake Hallstatt is there for everyone!
Send booking inquiry for Guest house Sams now!