Holiday house on Lake Hallstatt - Bad Goisern am Hallstättersee
Situated directly on the shore of Lake Hallstatt, our newly renovated house offers space for up to 5 people (2 bedrooms with extra sofa bed) and cozy seating area with satellite TV. The balcony and terrace offer breathtaking views of the lake and the mountains. Perfect for a relaxing holiday.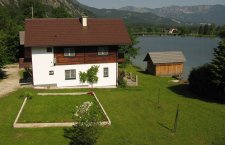 Unfortunately we could not find any free accommodation for the selected period (23.03.2018 - 25.03.2018)
1 rooms or packages available at a different date:
Haus am See
from € 100,80 per night
Facilities
Sanitary: Bathtub, Shower, Windowed bathroom, Separate lavatory, Washbasin Equipment: 2 bedrooms, Combined living and sleeping area, Oven, Washing machine, CD player, Internet access in room, Terrace, Baby cot, Dishwasher, Refrigerator, Windows possible to open, Coffee machine, Microwave, Towels available, Bed linen available, Internet TV, TV, Additional bed, Dish and kitchen linen available, Radio, Wifi, Coffee and tea cooking facilities, Ironing board, Toaster, Balcony/terrace, Hair dryer, Separate kitchen Location: Lake facing, Water front, Mountain facing Floor: Ground floor, 1st floor
Holiday on the shore of Lake Hallstatt in Bad Goisern
A vacation home on Lake Hallstatt is the perfect way to unwind and spend a relaxing holiday. If you love to spend your free time with the whole family then "Haus am See in Steeg" is exactly right for you: You wake up with the breathtaking view over the fjord-like Lake Hallstatt and the majestic mountain landscape. You can enjoy your first cup of coffee or tea on your balcony overlooking the lake. This is holiday at its best in Bad Goisern, Salzkammergut.
For guests who want to relax or to be active
Not only the idyllic lake, but also the beautiful cycling and hiking trails invite any holiday maker to an active holiday and will delight young and old. You can reach the world famous village of Hallstatt via the Salzkammergut Soleleitungsweg in about 1.5 hours - an unforgettable hiking tour suitable for the whole family.
The Ostuferwanderweg (eastern shore path) invites for relaxed cycling and hiking. You could stop half way at 'Seeraunzn', a favourite little restaurant with regional specialities.
With the Hallstätter Seeschiffahrt (Tourist round trip boat) you can explore the world famous lake in a very convenient way - the pier is within walking distance.
For those, who like things a bit more sporty – you can go on a rafting trip. The tour starts a few meters from the house.
In winter the ski resort Dachstein West in Gosau offers powder snow and 'Jagatee'! The free ski bus stop is within walking distance!
Perfectly equipped for all your requirements
The completely renovated cottage on Lake Hallstatt can accommodate up to 5 people (2 bedrooms with extra sofa bed) and a comfortable sitting area with satellite TV. The upstairs balcony overlooking the lake offers moments of pure relaxation. Downstairs is the fully-equipped kitchen and dining area with access to the lake facing terrace. The large lawn is ideal for sunbathing and the rowing boat allows you to explore Lake Hallstatt in the summer months. Free Internet (wi-fi) and garage use.
Whatever you choose - relaxation or adventure, we wish you a wonderful holiday in "Haus am See in Steeg" in the UNESCO World Heritage site of Hallstatt Dachstein Salzkammergut.
Facilities
Location
By the lake
Quite environment
In the mountains
Service
Parking area
Bike storage
No board included
Lawns for sunbathing
Capacities
Number of double rooms: 1
Number of two-bed rooms: 1
Equipment
Baby cot
washing machine in the house
Non-smoking host
Wifi
Room with Balcony
Terrace
Leisure/Sport
Boat hire
Barbecue facilities
Themes
Romance
Families
Mountains
Bathing/beach/ocean
Ski and winter sports
Hiking/nature
Active and sport
Book Holiday house on Lake Hallstatt now!
Conditions / Extras
Conditions/extras
Arrival and departure
- Arrival: from 4.00 pm
- Departure: by 10.00 am
Others
- Cottage for non-smokers
Your free holiday adventure card!
A holiday, in the UNESCO World Heritage region of Hallstatt Dachstein Salzkammergut, is now twice as rewarding: Enjoy unforgettable experiences and save at the same time! How does this work, you ask? With the Salzkammergut Adventure Card or the Salzkammergut Winter Card. - Depending on the season! These cards are free, when staying for three nights or more and are available from numerous accommodation establishments as well as in the four tourist offices of the Dachstein Salzkammergut holiday region. This will turn your summer holiday in Bad Goisern, Gosau, Hallstatt and Obertraun, into an unforgettable experience! Here is an overview of the attractions and leisure activities where you will receive a discount with the Salzkammergut Adventure Card or the Salzkammergut Winter Card! We wish you relaxing holidays between mountains & lakes within the World Heritage.
Always well-informed
When is the next cable car to the Dachstein Plateau in Obertraun? When does the next sightseeing ship depart from Hallstatt? With the four tourism platforms of the UNESCO World Heritage site of Hallstatt Dachstein Salzkammergut // www.hallstatt.net // www.bad-goisern.net // www.obertraun.net // www.gosautal.net // you will always stay up-to-date on current hours of operation, itineraries and more. If you'd like to use this information for during your stay in the holiday region of Dachstein Salzkammergut, then we would suggest that you save the appropriate website of your holiday destination in your favourites list on your smartphone or tablet. Then, you will always be informed during your holiday in the Salzkammergut. We hope to see you in Hallstatt, Gosau, Bad Goisern and Obertraun!
Book Holiday house on Lake Hallstatt now!