Gasthof Bergblick - Bad Goisern
Comfortable and quiet guesthouse with shady garden and good traditional food. Ideal for a motorbike or cycling holiday! Parking in front of the house. Children's playground and a small workshop for bike repairs.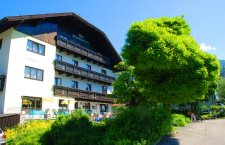 In the heart of world heritage
Do you fancy a cosy and unforgettable holiday in the UNESCO World Heritage region of Hallstatt Dachstein Salzkammergut yet are still searching for a small but nice guesthouse with charm? If so, then we can wholeheartedly recommend the Gasthof Bergblick. Due to its central location, the friendly guesthouse, situated in Bad Goisern on Lake Hallstatt, is highly valued amongst motorcyclists and cyclists: Excursions such as the world famous Hallstatt, the picturesque Lake Wolfgang, the crystal-clear Lake Gosau with its mighty Dachstein glacier and the enchanting cave worlds in Obertraun are all just a short drive away.
Breakfast with spectacular mountain views
Start your excursion day with a leisurely breakfast in the garden under ancient trees, or in the cosy breakfast room. In the evening, the picturesque garden not only invites you to enjoy a "night cap" - but also to a hearty dinner - because at the Pension Bergblick the boss cooks personally. Specialities include potato dishes, pork and lamb kebabs, lamb pan and the "Karree Mist" - what is that? Let yourself be surprised.
The warmly decorated rooms leave nothing to be desired and provide you with energy for your next excursion day. All rooms have satellite TV and Wi-Fi – so even on rainy evenings you will not get bored. Our small in-house workshop is also available for small repairs to your motorbike or bicycle.
Facilities
Motorcyclists - Garage
Bikers - Small workshop
Family-friendly playground, lawn
Bar, breakfast room, TV lounge, Half-board 3-course menu
Pets welcome
Free parking
Free WiFi
With best regards
Restaurant open times
Monday to Friday from 15:00 hrs.
Sunday & Holidays from 11:00 hrs.
Prices
The prices quoted are for per person per night including breakfast and taxes.
28.- Euro per person including breakfast and taxes.
Child reduction in parents' room:
0-3 years: free without extra bed
4-12 years: 50% discount for an extra bed
Dogs: 4 .- Euro per night
Onsite parking: fre
Check in from 15:00 to 22:00 hrs.
Send booking inquiry for Gasthof Bergblick now!
Your free holiday adventure card!
A holiday, in the UNESCO World Heritage region of Hallstatt Dachstein Salzkammergut, is now twice as rewarding: Enjoy unforgettable experiences and save at the same time! How does this work, you ask? With the Salzkammergut Adventure Card or the Salzkammergut Winter Card. - Depending on the season! These cards are free, when staying for three nights or more and are available from numerous accommodation establishments as well as in the four tourist offices of the Dachstein Salzkammergut holiday region. This will turn your summer holiday in Bad Goisern, Gosau, Hallstatt and Obertraun, into an unforgettable experience! Here is an overview of the attractions and leisure activities where you will receive a discount with the Salzkammergut Adventure Card or the Salzkammergut Winter Card! We wish you relaxing holidays between mountains & lakes within the World Heritage.
Always well-informed
When is the next cable car to the Dachstein Plateau in Obertraun? When does the next sightseeing ship depart from Hallstatt? With the four tourism platforms of the UNESCO World Heritage site of Hallstatt Dachstein Salzkammergut // www.hallstatt.net // www.bad-goisern.net // www.obertraun.net // www.gosautal.net // you will always stay up-to-date on current hours of operation, itineraries and more. If you'd like to use this information for during your stay in the holiday region of Dachstein Salzkammergut, then we would suggest that you save the appropriate website of your holiday destination in your favourites list on your smartphone or tablet. Then, you will always be informed during your holiday in the Salzkammergut. We hope to see you in Hallstatt, Gosau, Bad Goisern and Obertraun!
Holiday in Bad Goisern on Lake Hallstatt
The wide and charismatic valley of Bad Goisern stretches out from Hallstatt in the south to Bad Ischl, the summer holiday resort of the emperor in the north. Discoveries dating back to the Stone Age and the Hallstatt period enable us to establish that there was a close contact with villagers from the surrounding regions. The wood and agriculture industry developed very early in the wide fertile valley of Bad Goisern, to supply the mine in Hallstatt. This is how Bad Goisern is where it is now, on prettiest landscapes of the UNESCO World Heritage region of Hallstatt Dachstein Salzkammergut. This enchanting village used to be called "The Monarchies most beautiful village" and still hasn't lost any of its charm. Among the most beautiful places of interest are the oldest salt mine in the world and the ossuary in Hallstatt, a romantic boat ride on Lake Hallstatt, a trip to the breathtaking cave world in Obertraun and a visit to the Lake Gosau with the mighty Dachstein glacier. Additionally, Bad Goisern is popular in the summer with hikers and bikers. In winter guests are lured in by the ski areas of Dachstein West in Gosau and the Ski and Freeride Arena in neighboring Obertraun with perfect slope conditions. We wish you an unforgettable holiday in Bad Goisern on Lake Hallstatt.
Share the excitement
Give your friends, relatives or acquaintances a little treat and share this page on Facebook, Twitter or Google Plus. Bacause a holiday on Lake Hallstatt is there for everyone!
Send booking inquiry for Gasthof Bergblick now!