Recreational paradise on Lake Hallstatt
Recreational paradise on Lake Hallstatt
Summer, blue skies, sunshine: Indispensable on a summer vacation, in the Salzkammergut, is the extensive bathing fun. The family-friendly beach in Obertraun on Lake Hallstatt is one of the most beautiful and best maintained swimming facilities on Lake Hallstatt and scores high with guests and hosts in many ways: with a beach volleyball court, children's playground, barbeque areas, water slide, and even free parking.
The large sunbathing area, the spacious changing rooms and the beautifully situated snack bar, with a variety of delicacies, are ideal for long swimming days in the World Heritage region of Hallstatt / Dachstein Salzkammergut. This is what makes bathing in Obertraun on Lake Hallstatt fun: Summer, sun, Salzkammergut!
Bike hire Immervoll
The Immervol bike rental is located directly at the See-Cafe & beach in Obertraun. The perfect starting point for a bike ride along Lake Hallstatt on the "Ostuferradweg" for example.
Boat hire in Obertraun
Obertraun | Immervoll boat hire: Located directly on the beach with lakeside café. For ePirates, thigh pumpers thighs or biceps posers – for each captain, the right boat!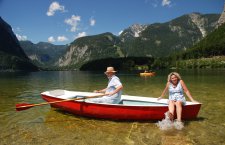 Unforgettable holiday experience
Take an extraordinary ride on Lake Hallstatt with Navia, and turn back time. On board a Zille, sister to those that transported the "white gold" from Hallstatt's Salzberg, or Salt Mountain, into the wider world 500 years ago.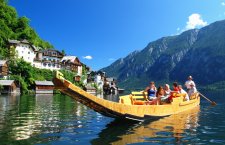 The Hallstatt Lake – Lake it!
Already more than 200 years ago the world traveller Alexander von Humboldt appreciated Lake Hallstatt in the Salzkammergut and named Hallstatt "the most beautiful lakeside resort in the world". Now, just two centuries later, the numerous visitors from all over the world have also learnt cherish Lake Hallstatt. Whether for a romantic cruise with an electric boat or on board one of the excursion ships, whether it be bathing in Hallstatt, Bad Goisern or Obertraun, or hiking along the fjord-like waters - Lake Hallstatt in the Salzkammergut has captivated everyone. And so it is hardly surprising that on the water and on its shores, more and more recreation seekers are enjoying themselves. A holiday destination for those who are looking for variety. And when are you coming to Lake Hallstatt?
Information at a glance
Large beach
Free Parking
Snack bar
Beach volleyball court
Children's playground
Barbeque pits
 Toilet facilities
Snack bar
Contact
Seecafe am Strandbad in Obertraun on Lake Hallstatt
Concat person: Rosi Fischer
4831 Obertraun
Austria
Phone: : +43 (0) 650 61 771 65
Tourist Office Obertraun on Lake Hallstatt
Ferienregion Dachstein Salzkammergut
Tourismusverband Inneres Salzkammergut
Geschäftstelle Obertraun
Nr. 180
4831 Obertraun, Österreich, Austria
Phone: +43 (0) 5 95095 40
Fax: +43 (0) 6131 / 34222
E-Mail: obertraun@dachstein-salzkammergut.at
Homepage: www.obertraun.net

Opening times Tourist Office Obertraun
Janiary & February: Mon – Fri 8:00 - 17:00 hrs / Sat 9:00 - 13:00 hrs. / Son & Holidays closed
March to May: Mon – Fri 8:00 - 17:00 hrs / Sat, Sun& Holiday closed
June to September: Mon – Fri 8:00 - 17:00 hrs. / Dat 8.=0 13.00 hrs. / Sun & Holidays cloased
October & November: Mon – Fri 8:00 - 17:00 hrs. / Sat, Sun & Holidays cloased
December: Mon – Fri 8:00 - 17:00 hrs. / Sat & Son closed / Holiday 9.00 to 13.00 hrs.