Bicycle hire - Rent a bike on Lake Hallstatt
Who wants to spend the next holidays in UNESCO World heritage region of Hallstatt Dacstein Salzkammergut, has a long time arrival ahead. No matter if you arriving by train, airplane or car: if you are planning a biking-holiday you will hardly have enough place and nerves to bring your own mountain bike to Lake Hallstatt. So we recommend: rent your mountain bike in one of the many bike-rentals in the UNESCO World Heritage region of Hallstatt Dachstein Salzkammergut. The bike-rentals around Lake Hallstatt they have only the newest bike at your disposal and they are always best maintained. The rental fees are acceptable and fair.
Mountain Bike Tours
You want to bike at the most beautiful places? Well, then you have no other alternative than the Salzkammergut – no matter in what shape you are, how fast you want to go, how old you are! The tracks around the fascinating Dachstein promise no stress, breathless fun, healthy exhaustion and a mental incitation.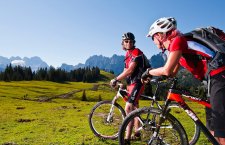 Pedal pushers conquer the World Heritage
The UNESCO World Heritage region of Hallstatt Dachstein Salzkammergut, between the fjord-like Lake Hallstatt and the enchanting Lake Gosau, at the foot of the mighty Dachstein glacier, offers many opportunities for cyclists. In addition there are numerous e-bike trails available in the region. For e-bikes is the new trend within the bicycle market. For hundreds of thousands they are the new alternative to the car, whilst for others they are an excellent way to enjoy and explore the more mountainous regions. A big hit is the 'Ostuferradwanderweg ' (east bank trail), which leads from the idyllic UNESCO World Heritage town of Hallstatt to Obertraun and then on to Bad Goisern. The return trip to Hallstatt can be accomplished with the pleasure boat "Goisern II" from Steeg. The e-bike trails in the holiday region of Dachstein Salzkammergut are perfectly aligned with the target audience of leisure cyclists. Numerous rental and battery exchange stations will guarantee an unforgettable cycling holiday between mountains and lakes.
Information at a glance