Eastern Shore Hiking and Cycling Trail
Around Lake Hallstatt
The Eastern Shore Cycle Path is just one section of the Salzkammergut Cycle Way which passes through this "Land with 76 Lakes", and covers a total of 184 km. Coming from Bad Ischl or Bad Aussee, the Eastern Shore Cycle Trail is a delightful excursion. The section from Bad Goisern to Obertraun is gentle and unproblematic. You should plan your time carefully and allow some time to stop off in Hallstatt and visit the Salt Mines Exhibition, the catholic church, the World Heritage Museum or the archeological excavations. From Hallstatt Railway Station you can cross the lake to Hallstatt Lahn by lake ferry.
Hikers snug "Seeraunzn"
Bad Goisern on Lake Hallstatt | Insider tip amongst hikers and cyclists. Excellent cuisine with magnificent views. Easy to reach by boat. Dinner is served!
DBathing at the Eastern Shore Cycling Trail
Recreational paradise on Lake Hallstatt
Obertraun on Lake Hallstatt | Strandbad: The family-friendly beach in Obertraun on Lake Hallstatt is one of the most beautiful and best maintained swimming facilities on Lake Hallstatt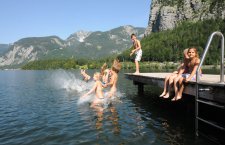 Untersee lido in Bad Goisern
Bad Goisern on Lake Hallstatt/ Untersee lido: The beautifully located lakeside resort, with stunning panoramic views over the fjord-like lake and the Krippenstein, the mountain for excursions and hiking, counts as one of the most beautiful bathing areas in the Salzkammergut.
Explore the nature!
A spectacular visitor attraction near Obertraun is the "5 fingers" viewing platform - make the rapid ascent up the Krippenstein by "Dachsteinwelterbeseilbahn" - a cable car from which you will enjoy stunning panoramic views. From Obertraun you can also visit the famous Dachstein Caves - the Giant Ice, Mammoth and Koppenbrüller Caves, which are well-worth a visit.
Free charging station for E-Bikes!
E-Bike charging station at Dachstein Krippenstein cable car valley station. For all E-Bike riders there is a free charging station for E-Bikes at the valley station for the Dachstein-Krippenstein cable car! The E-charging station is located at the valley station, right next to the ticket office and it is signposted. While E-Bike batteries are charged free of charge at the E-charging station, you get to investigate the subterranean mountainscape of the Dachstein Ice Caves, the Koppenbrüllerhöhle cave and Mammuthöhle cave; enjoy the fantastic mountains in Dachstein in the Salzkammergut or just relax on the mountain and replenish your own energy stores for the return leg of your trip! Note: The E-charging station has four safety plugs with child protection feature and water protection.
Information at a glance
Tour information
Start: Steeg - Bad Goisern
End: Obertraun
Length: about 8 km
Difficulty: easy
Specials: World Heritage Museum, Salt Mines, "5 fingers" , stunning panoramic views and mutch more