All tours at a glance
Out and about in the mountains around Hallstatt
Whether long day hikes, overnight stays at romantic mountain huts or simple walks in the valley – whoever was en route in Bad Goisern on Lake Hallstatt, in the Gosau Valley, in Hallstatt or in Obertraun will always want to hike further.... It is the happiness of walking that suddenly explodes into great emotions.
We have compiled the most beautiful hiking tours for you on this page. You can easily compare all tours at a glance. We wish you an exciting hiking holiday in the UNESCO World Heritage region of Hallstatt Dachstein Salzkammergut.
Tours at a glance
Safety Tips for Hikers
Admittedly, the landscape of the UNESCO World Heritage region of Hallstatt Dachstein Salzkammergut is the absolute pinnacle for hiking fans, mountain enthusiasts and nature lovers—unforgettable tours to incredibly beautiful mountain lodges and meadows, panorama views as far as the eye can see and cherished moments that will last a lifetime! However, you should remember that while hiking you might find yourself in high-alpine terrain. We've put together some resources to assist you: how to best prepare for your tour, recommended items for your backpack and steps to take in an emergency situation. Remember to always play it safe and enjoy your hiking adventure in the Salzkammergut!
Leisurely hiking from cabin to cabin
Mountain Huts and Alpine
Fancy a glass of wonderfully fresh milk, accompanied by freshly baked farmhouse bread with bacon or fresh alpine cheese. Here you will find the most beautiful Alpine pastures, in the World Heritage region, for your family hike or Alpine pasture excursion.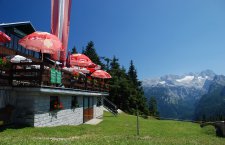 Heavenly Perspective
Lace up your hiking boots, load up your backpack and hit the trail! Enjoy gorgeous natural surroundings, charming architecture and friendly people as you wander down idyllic lanes and paths. The daily grind gets left behind and your head becomes as clear as the air in the high alpine landscape of the UNESCO World Heritage Region of Hallstatt Dachstein Salzkammergut. Along the well-marked paths, you will find the ideal conditions for escaping the monotony of everyday life. Whether you're a passionate mountain hiker or a nature enthusiast, traveling alone or with the entire family, you'll enjoy scaling our regional peaks. In our comprehensive route planner, you'll discover a variety of suggestions for creating your ideal hike. You can pick up a detailed hiking map at one of the four tourist offices of the Dachstein Salzkammergut holiday region. Each map describes favourite routes for exploring Hallstatt, Bad Goisern on Lake Hallstatt, Gosau and Obertraun. We hope you'll have a wonderful time discovering the wonders between our mountains and lakes!