Panorama trail Hallstatt
For those who only make a brief visit to Hallstatt and yet want to have a view from above of the enchanting village, at the foot of the salt mountain, we recommend the panorama hiking trail above Lake Hallstatt.
Day visitors hike above the roofs of Hallstatt
The hike begins behind the cemetery at the Catholic church, then continues a few steps up onto a forest road. From here the hiker has a wonderful view onto the tower of the Evangelical church, the ferry dock of the "Markt" district and of course the unique mountain world of the UNESCO World Heritage site of Hallstatt Dachstein Salzkammergut. Now we keep left and follow the forest road slightly uphill. On the right side we will keep on seeing information boards, allowing us a glimpse into the history of Hallstatt. These belong to the historic World Heritage circular trail leading over parts of the brine pipeline route and the salt mountain. At the bridge to the Mühlbach (mill brook) waterfall the road changes from gravel to asphalt and leads us easily downhill to the valley station of the funicular and the Salzberg (salt mountain).
Our hiking tip: Only about 200 meters after the bridge Mühlbach (mill brook), after a viewing hut, the "Müllerstiege" (Müller staircase) begins. This route leads back to the town centre and is especially delightful because of its magnificent views and the houses built onto the rocks. The path along the Mühlbach canyon is one of the most beautiful short hiking trails in the Salzkammergut.
Hiking
You will be spellbound by the magic world of the Dachstein and the other landmarks in the Inner Salzkammergut. Explore the most beautiful spots of this region on numerous small romantic paths and trails or on comfortable and well developed hiking trails.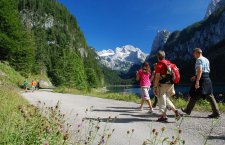 Magical Spots between Mountains and Lakes
From the Kalverienberg in Gosau, which offers visitors fantastic panoramas of the Gosau Valley, the romantic Koppenwinkel Lake in Obertraun with its absolute tranquillity, to the incomparable charm of the "Goiserer Seeplatzl", the numerous enchanting locations of the UNESCO World Heritage Region of Hallstatt Dachstein Salzkammergut wait to be discovered. We've compiled a list of the most beautiful natural settings between mountains and lakes just for you—and new ideas are continually added!
Information at a glance
Starting point: Road to"Marienruhe" (cemetery Catholic church)
End point: valley station of the Salzberg Funicular
Walking time: Between 45 and 60 minutes
Trail condition: Forest, forest road, paved road
Special features: Walk with panoramic views of Lake Hallstatt.
Especially recommended for day visitors with sport- or outdoor shoes