Löckernmoos & Wildfrauenloch in Gosau
Relaxation in the upland moor
This name originated from a legend – for it is said that on "Vorderen Grubalm" there once lived wild ('wild' is here to be understood as 'shy') virgins in a crevice - the so-called "Wildfrauenloch " (wild woman hole). Here is where they hung their clothes out to dry in the sun. At harvest time, they came down to the valley to help the farmers with their work. In fact, the whole of the Löckernmoos, with the small Löckernsee lake in its romantic location at around 1,400m above sea level, in the middle of an upland moor, could be referred to as a place of happiness in Gosau.
Absolute solitude and silence characterize this meditation place. Lie down, open your eyes and watch the clouds in the sky. Listen to the birds, the gentle breeze and feel the power of the millennia-old moor beneath you. Sink deep into the cushions of moss and get one with nature. The spiritual site Löckersee is located on the 10,000 years old Löckermoos moor above the 'Schleifsteinbrüche' (grindstone quarries) in Gosau, amid mountain pines and heather bushes.
Hiking through Gosau upland moor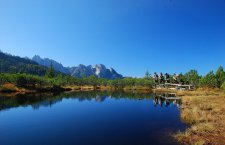 Events
Date: Thu, Dec. 21, 2017 , 09:00
Ort:  Tourismusbüro Gosau, Gosau 547 4824 Gosau
Five hour tour in upland moor high over the Gosau valley. On the trail of solitude. Winter hike to "Glücksplatz" (place of happiness)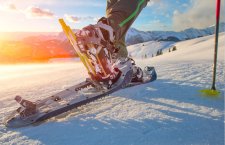 Date: Tue, May. 15, 2018 , 10:00
Ort:  Tourismusbüro Gosau, Gosau 547 4824 Gosau
Every week on Sat & Tus from June to October 2017
Heavenly Perspective
Lace up your hiking boots, load up your backpack and hit the trail! Enjoy gorgeous natural surroundings, charming architecture and friendly people as you wander down idyllic lanes and paths. The daily grind gets left behind and your head becomes as clear as the air in the high alpine landscape of the UNESCO World Heritage Region of Hallstatt Dachstein Salzkammergut. Along the well-marked paths, you will find the ideal conditions for escaping the monotony of everyday life. Whether you're a passionate mountain hiker or a nature enthusiast, traveling alone or with the entire family, you'll enjoy scaling our regional peaks. In our comprehensive route planner, you'll discover a variety of suggestions for creating your ideal hike. You can pick up a detailed hiking map at one of the four tourist offices of the Dachstein Salzkammergut holiday region. Each map describes favourite routes for exploring Hallstatt, Bad Goisern on Lake Hallstatt, Gosau and Obertraun. We hope you'll have a wonderful time discovering the wonders between our mountains and lakes!
Information at a glance
Tourist Office Gosau
Ferienregion Dachstein Salzkammergut
Tourismusverband Inneres Salzkammergut Geschäftsstelle Gosau
Nr. 547
4824 Gosau, Austria
Phone: +43 (0) 5 95095 20
Fax: +43 (0) 6136 / 8255
E-Mail: gosau@dachstein-salzkammergut.at 
More Information on www.gosautal.net

Opening times
Until 17th of April: Mon - Fri 8.00 - 17.00 hrs,  Sat/Sun/public holiday  9.00 to 15.00 hrs
18th of April - June: Mon - Fri 8.00 - 17.00 hrs, Sat.- Son. and public holiday closed
July - October: Mo-Fr 8.00-18.00 hrs, Sat/Sun/public holiday 8.00-13.00 hrs
November - December: Mo-Fr 8.00-17.00 hrs