Gosau indoor pool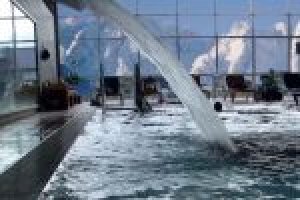 Bathing pleasure after skiing fun
In winter weaving over the white slopes is great fun for young and old. The crowning glory of such a winter's day is a visit to the Gosau indoor pool. Likewise, a swimming pool visit in the UNESCO World Heritage region of Hallstatt Dachstein Salzkammergut is a great leisure activity in bad weather. Whether swimming laps or just splashing and horse around in the warm water - fun in the wet in the 12.5 x 25 m large pool can be as relaxing as exciting. The large glass front provides particularly beautiful mountain views, which parents can enjoy from their cosy lounger whilst relaxing.
Relaxation at the foot of the Gosaukamm
Sauna and solarium provide total peace and relaxation. You have the chance to relax and review your memories of the day and enjoy the peace and quiet, the warmth and laziness! Whether it is after an exhausting day on the ski slopes of the Dachstein West ski region, or on a rainy day in the summer, the pool of Gosau in the Salzkammergut is always in season!
Dinner is served - a taste of Austria
"It is well known that eating and drinking sustains both body and soul". People within the UNESCO World Heritage region of Hallstatt Dachstein Salzkammergut stay true to this old saying. Sometimes rustic, sometimes modern, but always authentic – that is the cuisine within the Salzkammergut. This includes traditional meat dishes as well as heavenly sweet pastries and, typical for the lake region of the Salzkammergut - exquisite fish specialties. Connoisseurs can also enjoy an incomparable mix of culture, history and regional delicacies at numerous events between mountains and lakes. Let yourself be pampered; In the summer after a long mountain or bike tour. In winter, after an unforgettable day on the slopes or simply by a romantic dinner during your holiday in the Salzkammergut. Let yourself be inspired and take a look at our culinary hosts within the Dachstein Salzkammergut holiday region. We wish " Guten Appetit".
Information at a glance
Contact
Odoor pool Gosau
Gosauer Hallenbad
Schulstraße 18
4824 Gosau
Austrai

Phonen: +43 (0)6136 88 21-19
Faxnummer: (06136) 88 21-24
E-Mail: gamsjaeger.josef@gosau.ooe.gv.at 

Open from
Times: Tuesday – Sunday
from 13:00 to 20:30 hrs. Closed Mondays.
Sauna from 16:00 to 20:30 hrs.

Prices:
Adults: 11.- Euro
Children: 4.- Euro
Children under 6 years free
Families: 15,70 Euro

Family discounts: Catering services, Parking, Children's age: Suitable for all ages!

Our advice: Conveniently download prices, opening times and other information for your holiday in the UNESCO World Heritage region of Hallstatt Dachstein Salzkammergut, as a PDF on your tablet or smartphone. So you are always well informed and have all important information at hand.