Sights
First time visitors to Gosau are stunned by the outstanding natural beauty of the valley. In summer, the surrounding lakes and mountains, Gosau Lakes and the Gosaukamm mountain range are particular favourites among walkers. In winter, visitors venture out on to the slopes of the Dachstein West Ski Region.
Around the Gosausee (lake)
Gosau | Lake Gosau: A stroll along the lower Gosau lake, with itsworld famous rocky back-drop is an opportunity to enjoy natural beauty at its best.The water is crystal clear and is drinking quality.
Hallstatt Salt Worlds
Hallstatt | Salzwelten Salt Mines: On the trail of the "Man in Salt" in the oldest salt mine in the world. Going through tunnels which have been hand dug by people over 3000 years ago. A Family Experience!  Open from 20th April to 27th October 2013!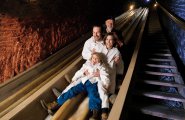 A journey through time!
Hallstatt | Heritage Museum: Discover your own personal Hallstatt period on a journey through history - from the Stone Age to the present day in the World Heritage Museum Hallstatt. History does not get any more exciting - come with us! Open from May until September daily!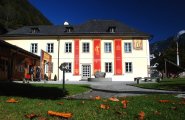 Gosau is Geology
Gosau | Ancient forest: Austrians Geological park number one - 600 Million years of history in 6000 seconds - if you have less time you can discover the ancient history of Gosau in just 100 minutes. Open from May untim October 2013!
The Neuwildenstein Stately Home
Bad Goisern | Hand.Werk.Haus: The Salzkammergut Hand.Werk.Haus (The Neuwildenstein Stately Home) is described as a show place for local handicrafts, and is important in the sustainable cultural and economic development of the region!
Witness of the past
Gosau | Stone and fossil grinding/exhibition: Fossilised creatures up to about one million years old are found in river beds and certain rock faces around Gosau
The "Slow train" of the Gosau Valley
Gosau | "Slow train": An exciting adventure for all the family. Excursions to the Plankenstein-Alm, Iglmoosalm, Neualm, and Ebenalm pastures nestling high in the mountains.
HöMountain Adventures
Obertraun | Krippenstein:  Discover the fairytale world of the Ice cave and follow in the footsteps of the cave researchers through the Mammut Cave and Koppenbrüller Cave. Feel the adrenaline pumping through your veins on the 5fingers viewing platform. Opening hours:  Open from 1st of May until 26nd of October 2013
Dirndl To Go
Hallstatt | Rent a "Dirndl" for your photos on the most beautiful places in world-heritage-village Hallstatt to remember your great holiday at lake Hallstatt/Austria!