Snowshoeing on the Zwieselalm
Look forward to pure winter romance!
When the glistening white landscape of snow cracks under your boots, when the Gosaubach stream steams in the chilly air, when the sun ignites friendly light – this is how winter in the Salzkammergut makes you really happy. Enjoy the lonely silence of the deep snow covered Zwieselalm, experience the beauty of nature in the Dachstein West ski region with deep blue winter skies and hike through areas that would not otherwise be accessible in winter. A winter wonderland with unforgettable images in the World Heritage region Hallstatt / Dachstein Salzkammergut.
Snow boot hiking
Do you love to experience unusual original nature? Then you should definitely give snowshoeing a try. Enjoy the silence of winter, experience the untouched nature and immerse yourself into the enchanted winter wonderland far from the crowds and hustle and bustle.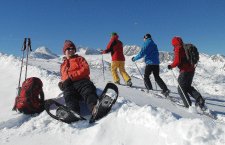 How about a winter holiday in the world heritage?
The oldest salt mine in the world, the breathtaking "Five Fingers" viewing platform, the view of snow covered Dachstein Glacier from the romantic Lake Gosau - these and more destinations thrilled millions of visitors, from around the world, who visited the UNESCO World Heritage region of Hallstatt Dachstein Salzkammergut in summer. However, also in winter, the four towns of the Dachstein Salzkammergut holiday region - Hallstatt, Bad Goisern, Gosau and Obertraun – have their own special charms: Rest & Relaxation in lovingly furnished apartments and perfectly equipped hotels, fantastic winter hiking trails, unrivalled snowshoe trails, romantic horse-drawn sleigh rides and a variety of thermal baths on the outskirts of the World Heritage region. Numerous swimming pools, whirlpools, saunas and steam rooms are available. Or treat yourself to one of the numerous applications such as classical or relaxing massages. Indulge yourself and enjoy the absolute tranquillity between mountains and lakes. Beautiful winter holiday in the world heritage!
More time to enjoy!
To save you unnecessary searching on various websites, we have summarised all relevant information for you below: contact details, opening times, travel times of cable cars, links to public transport and much more. In this way, you get all the information at a glance and have more time to enjoy the breathtaking mountains of the Salzkammergut.
Information at a glance
Information regarding the opening and operating times of the Gosau cable car are available below from the Dachstein AG. Expert advice regarding hiking routes or snowshoe rental can be obtained from the Gosau tourist office.
Your contact to the Ski region of Dachstein West in Gosau in the UNESCO World Heritage region of Hallstatt Dachstein Salzkammergut
Dachstein Tourismus AG Gosauer Bergbahnen::
4824 Gosau
Austria
Phone: +43 (6136) 8854
E-Mail: info@dachstein.at
Our advice: Conveniently download prices, opening times and other information for your winter holiday in the Ski region Dachstein West in Gosau, as a PDF on your tablet or smartphone. So you are always well informed and have all important information at hand.
Rates & Family rates Winter season 2015/2016
Panorama Skiregion Dachstein West in Gosau
Free Internet access: Wi-Fi hotspots in all stations of the Hornspitzbahn in Gosau and in the mountain station of the Zwieselalm cable car make it possible. Stay up to date in the UNESCO World Heritage region of Hallstatt Dachstein Salzkammergut !
Winter season 2015 / 2016 in the Ski region of Dachstein West in Gosau/Austria:
Open from Sat. 4th of December 2015 right through to 3th of April 2016
Tourist Office Gosau
Ferienregion Dachstein Salzkammergut
Tourismusverband Inneres Salzkammergut Geschäftsstelle Gosau
Nr. 547
4824 Gosau, Austria
Phone: +43 (0) 5 95095 20
Fax: +43 (0) 6136 / 8255
E-Mail: gosau@dachstein-salzkammergut.at 
More Information on www.gosautal.net

Regular opening times
Tourist Office Gosau
November to April: Mon – Fri 8.30 - 17:00 hrs.
Sat./Sun./Holiday 9.00 - 15.00 hrs
May to October: Mon. – Fri. 8.30 - 18.00 hrs.
Sat, Sun & Holidays 9.00 - 15.00 hrs.