Brumsiland in Gosau
Learn to ski with Brumsi & feel like you're flying!
Skiing bumble-bee Brumsi shows you how: on the magic carpet, Brumsi's boardercross and in the wild slalom flight amongst the fairytale figures, bombing past your parents on your boards and back to the start again. In Brumsiland, which is right at the valley station for the Hornspitzbahn in Gosau, even the littlest ski munchkin will learn superb turns. Lovely ski instructors from the ski school and Brumsi help you all to ski with ease. Your parents also get to watch you make speedy progress, as they relax over a cup of coffee and beam with pride.
Ski area Dachstein West Gosau
Gosau | The Dachstein West ski region is bound to impress: with new adventure-packed pistes for more skiing fun, delicious treats served by welcoming Alpine hosts, panoramic mountain views to admire and 140 km of perfectly prepared snows to explore!
Events
Date: Wed, Feb. 21, 2018 , 10:00 — 15:00
Ort:  Brumsiland, Gosau 701 4824 Gosau
Big kids snow party with funny game stations, free children punch, Live-DJ, tombola and BRUMSI ski race.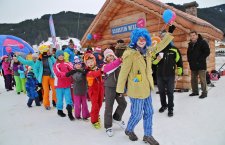 Informationen at a glance
Your contact to the Ski region of Dachstein West in Gosau in the UNESCO World Heritage region of Hallstatt Dachstein Salzkammergut
Dachstein Tourismus AG Gosauer Bergbahnen::
4824 Gosau
Austria
Phone: +43 (6136) 8854
E-Mail: info@dachstein.at
Our advice: Conveniently download prices, opening times and other information for your winter holiday in the Ski region Dachstein West in Gosau, as a PDF on your tablet or smartphone. So you are always well informed and have all important information at hand.
Rates & Family rates Winter season 2015/2016
Panorama Skiregion Dachstein West in Gosau
Free Internet access: Wi-Fi hotspots in all stations of the Hornspitzbahn in Gosau and in the mountain station of the Zwieselalm cable car make it possible. Stay up to date in the UNESCO World Heritage region of Hallstatt Dachstein Salzkammergut !
Winter season 2015 / 2016 in the Ski region of Dachstein West in Gosau/Austria:
Open from Sat. 4th of December 2015 right through to 3th of April 2016