Gosau - Moments of Bliss
And when are you coming?
Enjoyment always comes first during a holiday in the Gosau Valley: No matter if in the saddle, on "Shank's pony", on the wall, on two planks or in the grove. In Gosau, in the UNESCO World Heritage region of Hallstatt Dachstein Salzkammergut, there is always something going on whatever the season! Picturesque "Glücksplätze" (places of happiness) and plenty of events ensure the right mix. Sometimes up, sometimes down! But always with lots of lifeblood. Let yourself be surprised! See you in the Gosau Valley!
Book online now!
Quickly and securely to the most beautiful apartments, the best hotels, the most cozy guest houses (B & B's) and the most spacious holiday homes around Lake Hallstatt and the Gosau Valley. Don't look around - book now! Just a click away!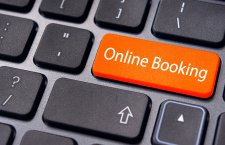 Discover Gosau in Spring, Summer and Autumn
Hiking with Betty in the Gosau Valley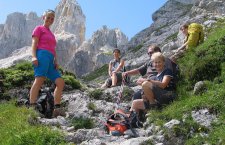 See and experience more with Betty
The guided tours will lead you to the most beautiful places around Lake Gosau and Lake Hallstatt. Betty will give you unforgettable moments!
» Hiking with Betty
Natural spectacle "Löckermoos" in Gosau
With the slow train to the raised bog. Weekly "Guided walks" from June to October, with the popular hiking guide Betty. Not to be missed! We enjoy the view of the stunning mountain panorama of the Gosaukamm and a break at a rustic mountain hut.
» Natural spectacle "Löckermoos" in Gosau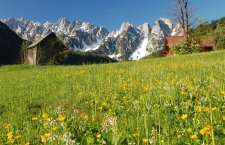 Hiking with Betty: Valley hike through Gosau
Three-hour family hike with "never ending panoramas". Pushchair friendly.
» Hiking with Betty: Valley hike through Gosau
Hiking at a glance
Dachstein West Hiking World
Here where skiers come to put their carving skills to the test in Winter, the gently rolling green meadows and mountain ridges offer fantastic views – the perfect place to enjoy a walk.
» Dachstein West Hiking World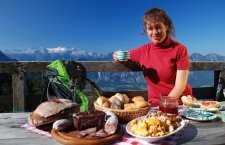 Breakfast in an Alpine hut
Enjoy a special kind of breakfast. Take a seat and breathe in the early morning fresh air. Surrounded by pure alpine life, accompanied by the gentle ringing of cowbells, hereyou will find the ideal conditions to start your day
» Breakfast up on an alpine pasture in the World Heritage region
Hiking around Lake Gosau
Hiking in Gosau- a very special treat! Here you will find the most beautiful hiking trails, the most popular mountain huts and Alpine pastures, impressive landscapes, guided tours and numerous insider tips about in and around the Lake Hallstatt area.
» Hiking in the Gosau Valley
Outdoor sports
Rock Climbing
Rock climbing has become very popular in region Dachstein-Salzkammergut over the last number of years. And no wonder – there thousands of cliffs, bluffs and crags for climbers to test their skills.
» Rock Climbing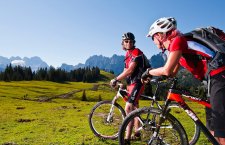 Mountain biking
Whether you ride a mountain bike to achieve sporting ambitions or for pure enjoyment, the landscape around the Gosau Valley is a bikers' paradise.
» Mountain Bike Tours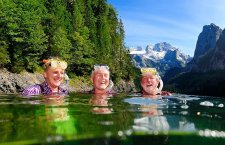 Dive Adventures
Water is the source of life and the past begins under water – experience the UNESCO World Cultural Heritage Site of Hallstatt and Gosau
» I want to dive
Service & Information
Tourist information Gosau
nformative brochures and catalogues with great offers for any time of year can be sent to you quickly and at no obligation. We look forward to your call and will be happy to give you advice and further information personally with News from the Dachstein Salzkammergut-region.
» Tourist Office Gosau
Salzkammergut Experience Ticket
Save up to 30% off regular rates with public transportation, with shipping and boating opportunities, mountain railways and uphill facilities, salt mines, ice caves & caverns, museums, swimming opportunities as well as with various recreational facilities and activities
» The Salzkammergut Erlebnis-Card: Why pay more…?
Information - Anything you want to know – at a glance
Whether you plan on staying in the Dachstein Salzkammergut region for several days or a mere few hours, whether you travel by yourself or with friends and family – we supply detailed information for your visit in the Dachstein Salzkammergut region.
» Information
World Heritage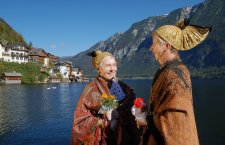 History & World Heritage
Since living memory it was the salt which provided the wealth for the Inner Salzkammergut. The salt is the basis for the typical ancient customs and interesting cultural peculiarities.
» UNESCO World Heritage region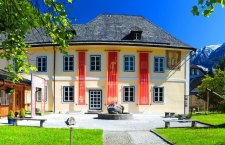 Heritage Museum - A journey through time!
Discover your own personal Hallstatt period on a journey through history - from the Stone Age to the present day in the World Heritage Museum Hallstatt. History does not get any more exciting - come with us!
» World Heritage Museum Hallstatt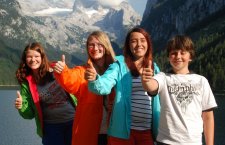 School Project Week in the World Heritage region
School trips usually require a lot of organisation: lengthy phone calls, complicated price tarifs... When you book with us, however, this is not the case. Everything is organised all in one go!
» School Project Week
Winter holiday in the Gosau valley: A fairytale in white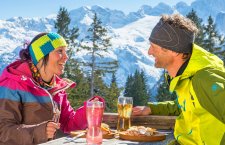 Winter in Austria
Winter conjures our valley into a true fairy-tale world. A perfect winter day full of the promise of endless fun. That´s winter in Gosau!
» Winterholidays in Austria´s mountains
Ski region Dachstein West
Dachstein West ski region: with new adventure-packed pistes for more skiing fun, delicious treats served by welcoming Alpine hosts.
» Pure fun – on and alongside the pistes!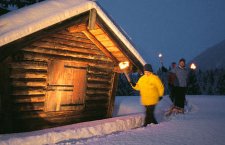 Guided winter hiking panorama tour
Deep blue skies, trees looking as if they have been wrapped in cotton wool, the snow crunching under your boots - Winter Hiking in Gosau can be so beautiful.
» Torch-lit hike through the Gosau Valley