Restaurant in the "Lake side hotel Grüner Baum"
Enjoy with an
unforgettable view of Lake Hallstatt
The culinary and gastronomic life and soul of our house are the restaurant "Zum Salzbaron", the "Kaiserstüberl" as well as our lakeside terrace and as a special highlight our new lounge area, located directly at the Hallstättersee. Our Chefs composed an exquisitely mix between Austrian and Mediterranean delicacy. The highlights are the daily freshly caught fishes out of the Hallstättersee, like trout, char and white fish. In our extensive wine card, you can select between Austrian wines of highest quality, as well as out of a special selection of international wines. In interpretation of an old saying is our motto: "Food and drink will anoint the body and inspire the soul". 
Lake Lounge: Lean back and relax in the lounge's comfy furniture. Enjoy an aperitif, a snack or simply a short break from the hustle and bustle of Hallstatt. Pure relaxation!
Bar: Finish out your evening in our bar. In addition to a selection of international cocktails, we also specialise in anti-alcoholic beverages including alcohol-free wine and cocktails as well as high-quality organic fruit juices and teas. We are happy to make recommendations.
Since 2014 our restaurant is listed in the gourmet magazin Falstaff with 80 points this represents one fork.
Events
Date: Sun, Dec. 24, 2017
Ort:  Seehotel Grüner Baum, Marktplatz 104 4830 Hallstatt
Terrine of salmon and smoked trout, wild herbs salad, wasabi and beetroot cream and much more…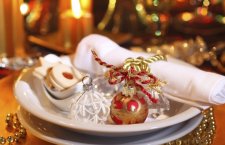 Hallstatt - Small village with a great history
The picturesque village on the lake with the same name owes its existence to the rich salt deposit of salt in the mountain of Hallstatt. 7000 years ago, as the prehistoric humans from Hallstatt began to take the salt from the salt mine who would of guessed, that this little village would give its name to a period in history – the Hallstatt period (800-400 BC). Rich findings in Hallstatt and the upper valley of Hallstatt gave this village international recognition; even today discoveries are still made in the salt mountain of Hallstatt.  Among the most beautiful places of interest are the oldest salt mine in the world and the ossuary in Hallstatt, a romantic boat ride on Lake Hallstatt, a trip to the breathtaking cave world in Obertraun and a visit to the Lake Gosau with the mighty Dachstein glacier. Additionally, Bad Goisern is popular in the summer with hikers and bikers. In winter guests are lured in by the ski areas of Dachstein West in Gosau and the Ski and Freeride Arena in neighboring Obertraun with perfect slope conditions. We wish you an unforgettable holiday in Hallstatt!
Information at a glance
Seehotel Grüner Baum
Grüner Baum


Marktplatz 104




4830

Hallstatt
Austria
Phone: +43 (0) 6134 / 8263
Fax: +43 (0) 6134 / 8263-44
E-Mail: contact@gruenerbaum.cc