Webcam Webcam Mount Krippenstein on Lake Hallstatt
Impressions from the Dachstein Hiking World and Free Sports Arena Krippenstein: View from the top station to the Dachstein glacier during a vacation in the Dachstein Salzkammergut holiday region around Lake Hallstatt in Austria.
© www.dachstein-salzkammergut.com
Days of Freedom
Obertraun | Freesports Arena Krippenstein: Are you ready? For 30 kilometres of the finest deep snow? For the longest ski run in Austria? Far removed from the mainstream!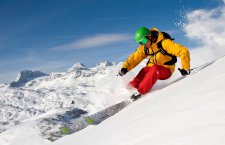 Discover Obertraun – A world of limitless experiences
There's much to discover and experience in Obertraun on the southern shore of the idyllic Lake Hallstatt: hiking routes for all types, romantic spots, sport challenges, and winter wonderlands. Whether it's through water fun on the lake, relaxing at the Koppenlacke, or a bike tour along Lake Hallstatt, boredom is never the case in Obertraun. In terms of experience-rich outings, Obertraun offers the nearby historical town of Hallstatt with its Salzwelten salt mine, numerous hiking paths and visits to the fascinating ice caves within the Dachstein Mountain or the impressive "5fingers" viewing platform on the Krippenstein. In winter, snow-hungry visitors can also find their hearts' desires: freeriding, snowboarding, ski touring, and snowshoeing in the Freesports Arena Dachstein Krippenstein. From beginners to professionals, the Krippenstein has something for everyone. In both summer and winter, cosy mountain huts, such as the Lodge on the Krippenstein or the Schilcherhaus on the Gjaidalm, provide a relaxing finale to exciting hiking and thrilling skiing days. Boredom is yesterday's news – today it's all about Obertraun on Lake Hallstatt!
Information at a glance
Tourist Office Obertraun on Lake Hallstatt
Ferienregion Dachstein Salzkammergut
Tourismusverband Inneres Salzkammergut
Geschäftstelle Obertraun
Nr. 180
4831 Obertraun, Österreich, Austria
Phone: +43 (0) 5 95095 40
Fax: +43 (0) 6131 / 34222
E-Mail: obertraun@dachstein-salzkammergut.at
Homepage: www.obertraun.net

Opening times Tourist Office Obertraun
Janiary & February: Mon – Fri 8:00 - 17:00 hrs / Sat 9:00 - 13:00 hrs. / Son & Holidays closed
March to May: Mon – Fri 8:00 - 17:00 hrs / Sat, Sun& Holiday closed
June to September: Mon – Fri 8:00 - 17:00 hrs. / Dat 8.=0 13.00 hrs. / Sun & Holidays cloased
October & November: Mon – Fri 8:00 - 17:00 hrs. / Sat, Sun & Holidays cloased
December: Mon – Fri 8:00 - 17:00 hrs. / Sat & Son closed / Holiday 9.00 to 13.00 hrs.