Holiday Apartment & Private Rooms Edith Grill - Bad Goisern
Two holiday apartments in Bad Goisern on Lake Hallstatt, each for max. 3 people, overlooking Lake Hallstatt and the Goisern valley. Family Grill warmly welcomes you. Minimum stay 3 nights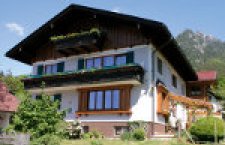 Relax and unwind!
In our small but beautiful private accommodation, on Lake Hallstatt, you will get to experience and enjoy nature. Here you can be assured of rest and relaxation and finally say "farewell" to the hectic of everyday life. Our house is located close to Lake Hallstatt, with stunning views of the Goisern valley and is the ideal location for short as well as longer hikes. Whether along the shores of Lake Hallstatt or on our mountains, you will find hiking trails suitable for all levels. We are members of the "Wanderfreunde Dachstein-Salzkammergut" a rambler's association.
Perfectly equipped
Our two apartments in Bad Goisern on Lake Hallstatt, each for up to 3 persons, are especially suitable for families. Whether you stay for several weeks or are planning a short break over a long weekend. We are well equipped with a lounge; garden/lawn; parking in front of the house; toys; washing machine and ski storage room. And if you are not travelling by car, we will gladly collect you from the train station.
Price
Price: 50,- / - 55,- Euro / per night
Minimum stay 3 nights
Your free holiday adventure card!
A holiday, in the UNESCO World Heritage region of Hallstatt Dachstein Salzkammergut, is now twice as rewarding: Enjoy unforgettable experiences and save at the same time! How does this work, you ask? With the Salzkammergut Adventure Card or the Salzkammergut Winter Card. - Depending on the season! These cards are free, when staying for three nights or more and are available from numerous accommodation establishments as well as in the four tourist offices of the Dachstein Salzkammergut holiday region. This will turn your summer holiday in Bad Goisern, Gosau, Hallstatt and Obertraun, into an unforgettable experience! Here is an overview of the attractions and leisure activities where you will receive a discount with the Salzkammergut Adventure Card or the Salzkammergut Winter Card! We wish you relaxing holidays between mountains & lakes within the World Heritage.
Always well-informed
When is the next cable car to the Dachstein Plateau in Obertraun? When does the next sightseeing ship depart from Hallstatt? With the four tourism platforms of the UNESCO World Heritage site of Hallstatt Dachstein Salzkammergut // www.hallstatt.net // www.bad-goisern.net // www.obertraun.net // www.gosautal.net // you will always stay up-to-date on current hours of operation, itineraries and more. If you'd like to use this information for during your stay in the holiday region of Dachstein Salzkammergut, then we would suggest that you save the appropriate website of your holiday destination in your favourites list on your smartphone or tablet. Then, you will always be informed during your holiday in the Salzkammergut. We hope to see you in Hallstatt, Gosau, Bad Goisern and Obertraun!

"Private Holidays" around Lake Hallstatt
"Private Holidays" around Lake Hallstatt and Lake Gosau in Austria offers the perfect private accommodation for your stay in the Cultural Landscape UNESCO World Heritage region of Hallstatt Dachstein Salzkammergut. Be it a room, an apartment or a whole house – a warm welcome and friendly service are guaranteed!
Send booking inquiry for Holiday Apartment & Private Rooms Edith Grill now!