Guest house Wallner - Gosau
Spacious holiday apartments for up to 8 persons in the center of the hiking and winter sport region of Gosau.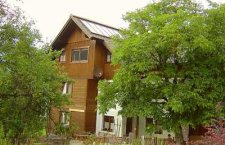 Welcome to our guest house "Haus Wallner"
At any time of the year, you will find quiet and relaxation in one of our two holiday apartments ? right in the middle of the beautiful Gosautal.
Guest house Wallner
Are you looking for a comfortable holiday apartment for your stay in the Austrian region of Salzkammergut? We offer you the perfect holiday apartment in beautiful Gosautal and warmly welcome you here.
Guest house Waller is located in a peaceful atmosphere on a small hill but is near the centre of the village. You can choose between two holiday apartments, each of which is individually furnished and offers enough space for your well-being and relaxation.
Holiday apartment Gosaukamm
This apartment gives a view on the Gosaukamm mountain and is big enough for 6-7 persons:
One three-bed, twin and single room, respectively; one extra room available
fully equipped and combined kitchen/dining room/living room, bathroom, toilet
satellite TV
each room is individually furnished
Holiday apartment Gamsfeld
From this apartment you have a fantastic view on the so-called Gamsfeld in Gosau and, furthermore, it offers:
8 beds (two twin rooms and one four-bed room)
fully equipped, big combined kitchen/dining room/living room including dishwasher, bathroom, shower, toilet
satellite TV
each room is individually furnished
Facilities
Garden
Sunbathing area
Water boiler
Fridge
Kitchen
Coffee mashine
(electric) Cooker
Towels
Dishwasher
Dishes available
Blankets available
Bedcovers available
Your free holiday adventure card!
A holiday, in the UNESCO World Heritage region of Hallstatt Dachstein Salzkammergut, is now twice as rewarding: Enjoy unforgettable experiences and save at the same time! How does this work, you ask? With the Salzkammergut Adventure Card or the Salzkammergut Winter Card. - Depending on the season! These cards are free, when staying for three nights or more and are available from numerous accommodation establishments as well as in the four tourist offices of the Dachstein Salzkammergut holiday region. This will turn your summer holiday in Bad Goisern, Gosau, Hallstatt and Obertraun, into an unforgettable experience! Here is an overview of the attractions and leisure activities where you will receive a discount with the Salzkammergut Adventure Card or the Salzkammergut Winter Card! We wish you relaxing holidays between mountains & lakes within the World Heritage.
Always well-informed
When is the next cable car to the Dachstein Plateau in Obertraun? When does the next sightseeing ship depart from Hallstatt? With the four tourism platforms of the UNESCO World Heritage site of Hallstatt Dachstein Salzkammergut // www.hallstatt.net // www.bad-goisern.net // www.obertraun.net // www.gosautal.net // you will always stay up-to-date on current hours of operation, itineraries and more. If you'd like to use this information for during your stay in the holiday region of Dachstein Salzkammergut, then we would suggest that you save the appropriate website of your holiday destination in your favourites list on your smartphone or tablet. Then, you will always be informed during your holiday in the Salzkammergut. We hope to see you in Hallstatt, Gosau, Bad Goisern and Obertraun!
Family Holiday in Gosau
Nestled among the majestic Dachstein, the imposing peaks of the Gosaukamm, the Kalmberg and Plassen lies the Gosau Valley at an elevation of approximately 800 metres above sea level. The romantic Gosau Lake, the hiking area of the Zwieselalm and the Löckermoss bog are considered alongside the comfortable pick-up train and the prehistoric forest park as absolute highlights for a family holiday in Gosau. Rustic mountain huts and gentle mountain meadows stir the souls of every hiking enthusiast. Over 65 kilometres of ski track cause cross-country skiing fans' hearts to beat faster. With 84 kilometres of slopes and 37 modern lifts, both beginning and veteran downhill skiers can find ideal conditions in the ski region of Dachstein West. Romantic horse-drawn sleigh rides, experience-filled snowshoe hikes, adventuresome diving excursions, a plethora of tourism sites throughout the Gosau Valley and a wide selection of free-time activities complete the diverse package of holiday possibilities for both summer and winter. We hope to see you on holiday in Gosau!
Share the excitement
Give your friends, relatives or acquaintances a little treat and share this page on Facebook, Twitter or Google Plus. Bacause a holiday on Lake Hallstatt is there for everyone!
Book Guest house Wallner now!