- Obertraun
Mediterranean flair at the shore of a alpine mountain lake, paired with perfect service. Mediterranean flair within alpine landscape!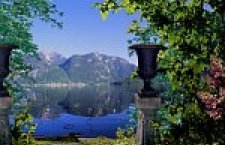 Mediterranean flair at the shore of a alpine mountain lake, paired with perfect service. Mediterranean flair within alpine landscape! Romantic park with old pillars, steps made out of stone, cultivated lawn and real gipsy trailer directly alongside the lake. Private beach overlooking Hallstatt. One of our bestsellers in Obertraun! Set in a large park with a private beach directly on the shore of Lake Hallstatt, Park am See offers unique accommodation in historic, renovated trailers decorated with books, paintings, works of art, and curiosities. The centre of Hallstatt is a 4-minute drive away.
The Park am See complex features a restaurant, a bar, a sauna (available at a surcharge), and a playground. Public areas provide free WiFi access. Small dishes and homemade cakes are available at Salon de Thé. A collection of fine arts and antiques, including original African sculptures, is featured at the property. Free private parking is available on site. The centre of Obertraun and the train station are a 3-minute drive away.
Facilities
Center: 1.7 km
Train station: 1.6 km
Airport: 84 km
Exit: 64 km
Bus parking space: 2 km
Bus station: 0.75 km
Boat mooring: 2 km
restaurant: 1.7 km
Shopping possibility: 1.7 km
You can reach us
by car - A1 motorway exit "Regau / Salzkammergut", from there via Bad Ischl and Hallstatt to Obertraun. Coming from the south on the A10 motorway, exit "Eben im Pongau". From there via Annaberg, Gosau and Hallstatt to Obertraun. Or you can drive on the highway B 145 via Bad Aussee to Obertraun.
by train - to station "Obertraun Dachsteinhöhlen", then 1,5 km by foot
by bus - to stop "Obertraun Traunbrücke", then 850 meters by foot
Your free holiday adventure card!
A holiday, in the UNESCO World Heritage region of Hallstatt Dachstein Salzkammergut, is now twice as rewarding: Enjoy unforgettable experiences and save at the same time! How does this work, you ask? With the Salzkammergut Adventure Card or the Salzkammergut Winter Card. - Depending on the season! These cards are free, when staying for three nights or more and are available from numerous accommodation establishments as well as in the four tourist offices of the Dachstein Salzkammergut holiday region. This will turn your summer holiday in Bad Goisern, Gosau, Hallstatt and Obertraun, into an unforgettable experience! Here is an overview of the attractions and leisure activities where you will receive a discount with the Salzkammergut Adventure Card or the Salzkammergut Winter Card! We wish you relaxing holidays between mountains & lakes within the World Heritage.
Always well-informed
When is the next cable car to the Dachstein Plateau in Obertraun? When does the next sightseeing ship depart from Hallstatt? With the four tourism platforms of the UNESCO World Heritage site of Hallstatt Dachstein Salzkammergut // www.hallstatt.net // www.bad-goisern.net // www.obertraun.net // www.gosautal.net // you will always stay up-to-date on current hours of operation, itineraries and more. If you'd like to use this information for during your stay in the holiday region of Dachstein Salzkammergut, then we would suggest that you save the appropriate website of your holiday destination in your favourites list on your smartphone or tablet. Then, you will always be informed during your holiday in the Salzkammergut. We hope to see you in Hallstatt, Gosau, Bad Goisern and Obertraun!
Obertraun – A world of limitless experiences
There's much to discover and experience in Obertraun on the southern shore of the idyllic Lake Hallstatt: hiking routes for all types, romantic spots, sport challenges, and winter wonderlands. Whether it's through water fun on the lake, relaxing at the Koppenlacke, or a bike tour along Lake Hallstatt, boredom is never the case in Obertraun. In terms of experience-rich outings, Obertraun offers the nearby historical town of Hallstatt with its Salzwelten salt mine, numerous hiking paths and visits to the fascinating ice caves within the Dachstein Mountain or the impressive "5fingers" viewing platform on the Krippenstein. In winter, snow-hungry visitors can also find their hearts' desires: freeriding, snowboarding, ski touring, and snowshoeing in the Freesports Arena Dachstein Krippenstein. From beginners to professionals, the Krippenstein has something for everyone. In both summer and winter, cosy mountain huts, such as the Lodge on the Krippenstein or the Schilcherhaus on the Gjaidalm, provide a relaxing finale to exciting hiking and thrilling skiing days. Boredom is yesterday's news – today it's all about Obertraun on Lake Hallstatt!
Share the excitement
Give your friends, relatives or acquaintances a little treat and share this page on Facebook, Twitter or Google Plus. Bacause a holiday on Lake Hallstatt is there for everyone!
Send booking inquiry for now!