Holiday home Sylvia Gamsjäger - Bad Goisern a.H.
Behaglich und gemütlich - Urlaub im Ferienhaus Gamsjäger in Bad Goisern. Das neu renovierte Haus bietet Platz für 2-4 Personen. Ob Familienurlaub oder Urlaub zu Zweit hier sind sie genau richtig.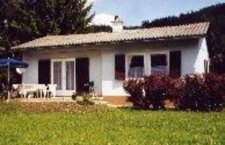 Unfortunately we could not find any free accommodation for the selected period (24.05.2018 - 26.05.2018)
1 rooms or packages available at a different date:
Ferienhaus Gamsjäger Sylvia
from € 65,00 per night
Description
Nettes Ferienhaus mit großzügiger Gartenanlage zum Entspannen. Unser Haus bietet eine kleine Küche, ein Wohnzimmer und 2 gemütliche Schlafzimmer. Genießen Sie die Abende auf der gemütlichen Terrasse mit Blick auf den Krippenstein zu der Aussichtsplattform 5finger. Das Ortszentrum befindet sich in 2 km Entfernung. Das Ferienhaus bietet einen idealen Ausgangspunkt für Spaziergänge, Wanderungen und Mountainbike Touren.
Facilities
Sanitary: Windowed bathroom, Washbasin, Lavatory and shower on the floor Equipment: Windows possible to open, Refrigerator, Double bed, Coffee machine, Dishwasher, Satelite TV, Dinette, Separate kitchen, Bed linen available, Coffee and tea cooking facilities, Toaster, TV, Radio, Single bed, Chimney, 2 bedrooms, Towels available, Seating
Conditions / Extras
Tourismusabgabe und Endreinigung werden extra verrechnet
Keine Hunde
Holiday dream in Bad Goisern on Lake Hallstatt
Cosy and comfortable - spend your holidays in the holiday apartment Gamsjäger in Bad Goisern. The newly renovated house offers space for 2-4 people and is the ideal starting point for hikes and mountainbiking tours in the central Salzkammergut. Whether it is a family holiday or a trip for two, you will be right at home here.
Fully equipped, this non-smoking holiday apartment offers space and comfort- 2 bedrooms, a cot is available, living room with double couch, terrace with a grill, kitchen with dishwasher and much more. We are always happy to help you with any questions you might have about a stay here!
Facilities
Location
Distance to airport (in km): 60
Outskirts
Distance to city centre (in km): 2
Distance to the forest (in km)
Rural area
Distance to next ski lift (in km): 15
Distance to the lake (in km): 3
Distance to next public transport station (in km): 0.5
Distance to subway (in km): 2
Distance to next train station (in km): 2
Service
Lawns for sunbathing
Pets not permitted
Parking area
Equipment
Baby cot
Chimney
Comfortable ambience
TV-room
Terrace
Leisure/Sport
Garden
Hiking trails
Barbecue facilities
Book Holiday home Sylvia Gamsjäger now!
Conditions / Extras
Conditions/extras
Arrival: can be discussed
Departure: by 10.00 am
Town tax and end cleaning fees not included in price.
The Austrian Hotel Contract conditions apply to us in their current form.http://www.hotelverband.at/down/AGBH_061115.pdf
Your free holiday adventure card!
A holiday, in the UNESCO World Heritage region of Hallstatt Dachstein Salzkammergut, is now twice as rewarding: Enjoy unforgettable experiences and save at the same time! How does this work, you ask? With the Salzkammergut Adventure Card or the Salzkammergut Winter Card. - Depending on the season! These cards are free, when staying for three nights or more and are available from numerous accommodation establishments as well as in the four tourist offices of the Dachstein Salzkammergut holiday region. This will turn your summer holiday in Bad Goisern, Gosau, Hallstatt and Obertraun, into an unforgettable experience! Here is an overview of the attractions and leisure activities where you will receive a discount with the Salzkammergut Adventure Card or the Salzkammergut Winter Card! We wish you relaxing holidays between mountains & lakes within the World Heritage.
Always well-informed
When is the next cable car to the Dachstein Plateau in Obertraun? When does the next sightseeing ship depart from Hallstatt? With the four tourism platforms of the UNESCO World Heritage site of Hallstatt Dachstein Salzkammergut // www.hallstatt.net // www.bad-goisern.net // www.obertraun.net // www.gosautal.net // you will always stay up-to-date on current hours of operation, itineraries and more. If you'd like to use this information for during your stay in the holiday region of Dachstein Salzkammergut, then we would suggest that you save the appropriate website of your holiday destination in your favourites list on your smartphone or tablet. Then, you will always be informed during your holiday in the Salzkammergut. We hope to see you in Hallstatt, Gosau, Bad Goisern and Obertraun!
Book Holiday home Sylvia Gamsjäger now!