E-Biking around the Gosau Valley
Discover the beautiful landscape of Austria
Easier peddling with E-power - the new dimension in cycing ... With your own power, supported by clever technology, even long routes and steep mountain roads are not beyond your reach, as well as you being environmentally friendly on the move. Discover the landscape around Lake Hallstatt by E-Bike or Pedelec. Follow the well-established cycle and mountain bike trails throughout the Dachstein Salzkammergut region.
It is easier to pedal with e-power …
Most people don't want to cycle any more. Health problems or lack of fitness are the most reasons for this decision. But with the electric bicycle Swiss FLYER people get a new chance to enjoy cycling. With your own strength and supported by a new technology you will be able to cycle long distances and step streets easily. The very joint-gentle Swiss FLYER knows no age limit.
The new dimension of cycling …
This revolutionary cycling pleasure can be experienced in every movelo-region. Guests enjoy sightseeing, points of interests, breath-taking views, cultural highlights and culinary delicacies in a new way. movelo makes your holiday a new life time experience.
Beautiful E-Biking tours around Lake Hallstatt
The most beautiful places for e-bike cycling in Austria: Ride with ease through the beautiful landscape around Lake Hallstatt. Climb up and descend mountain passes in Gosau. For you, no path is too far and no hill too high – because you will be sitting on the seat of an electric bike!
Iglmoos Round Trip
Gosau | Iglmoosalm-Runde: Fossils and Mineral Collection Gapp, Old Farmhouse, Grind Stone Mining Exhibition, Adventure Theme Park Urzeitwald (Primeval Forest)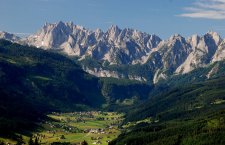 Eastern Shore Hiking and Cycling Trail
Bad Goisern/Obertraun/Hallstatt | Eastern Shore Hiking and Cycling Trail: The much-loved trail was adapted in 207, and ever since has become increasingly popular with cyclists.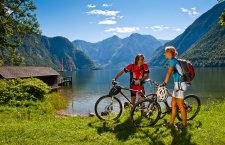 Complete the Dachstein Round by E-Bike
A circuit of the Dachstein is rich and varied also in terms of the local scenery. The route includes glistening Lake Hallstatt, the lush pastureland of the Ausseerland and the Ennstal Valley.
Take a tour by E-Bike through the Salzkammergut and see the area from a new perspective. The bikes give you extra power and ease the strain on your joints. You can discover much more of the area in a much more environmentally friendly way. The bikes are based on new technology and enhance your own performance by up to 150%. Modern sensors detect how much pressure you are applying to the pedals and respond accordingly. Depending on the terrain, a battery lasts 40 to 80 kilometres, or 5 to 6 hours. Exploring the region becomes much more effortless, and you can cycle from the centre of Bad Goisern first of all into the Weißenbach Valley and the Chorinsky Defile. Continue via the Anzenaumühle to the Ewigen Wand before returning to Bad Goisern.
Events
Date: Thu, Jun. 21, 2018 , 10:00
Ort:  E-Bike Verleih Nemo-Point , Gosauseestraße 7 4824 Gosau
Alluringly good eBike tours. Guided cycling tour to the most beautiful alpine pastures and huts in the Gosau Valley.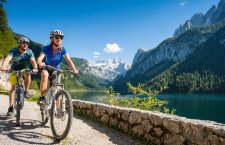 Free charging station for E-Bikes!
E-Bike charging station at Dachstein Krippenstein cable car valley station. For all E-Bike riders there is a free charging station for E-Bikes at the valley station for the Dachstein-Krippenstein cable car! The E-charging station is located at the valley station, right next to the ticket office and it is signposted. While E-Bike batteries are charged free of charge at the E-charging station, you get to investigate the subterranean mountainscape of the Dachstein Ice Caves, the Koppenbrüllerhöhle cave and Mammuthöhle cave; enjoy the fantastic mountains in Dachstein in the Salzkammergut or just relax on the mountain and replenish your own energy stores for the return leg of your trip! Note: The E-charging station has four safety plugs with child protection feature and water protection.
Dinner is served - a taste of Austria
"It is well known that eating and drinking sustains both body and soul". People within the UNESCO World Heritage region of Hallstatt Dachstein Salzkammergut stay true to this old saying. Sometimes rustic, sometimes modern, but always authentic – that is the cuisine within the Salzkammergut. This includes traditional meat dishes as well as heavenly sweet pastries and, typical for the lake region of the Salzkammergut - exquisite fish specialties. Connoisseurs can also enjoy an incomparable mix of culture, history and regional delicacies at numerous events between mountains and lakes. Let yourself be pampered; In the summer after a long mountain or bike tour. In winter, after an unforgettable day on the slopes or simply by a romantic dinner during your holiday in the Salzkammergut. Let yourself be inspired and take a look at our culinary hosts within the Dachstein Salzkammergut holiday region. We wish " Guten Appetit".
Information at a glance
Familie Feuerer in Obertraun
Ski rental stores in Obertraun on Lake Hallstatt
Bicycle hire
Obertraun 59
4831 Obertraun
Austria
Phone:  +43 (0) 6131 26760
E-Mail: sportshop.feuerer@aon.at
For rent: E-Bikes, Montainbikes; Bikes, Kanus,
Ski, Snowboards, Snowshoes, Cross country ski.
Kontakt
Sport sjop Mauna Loa Bad Goisern
Mauna Loa OG
Untere Marktstraße 91
4822 Bad Goisern on Lake Hallstatt
Austria
Phone +43 (ß) 6135 20776
Homepage Mauna Loa Bad Goisern
For rent: E-Bikes, Montainbikes; Bikes, Kanus, Ski, Snowboards, Snowshoes, Cross country ski.