Hiking in Bad Goisern on Lake Hallstatt
Hikers will enjoy themselves in the Dachstein Salzkammergut area. Hundreds kilometres of marked hiking trails runthrough the mountainscape. Hike in experience breathtaking panoramic views and unforgettable impressions. Here are the best walking paths around Bad Goisern.
Goiserer Hut
Bad Goisern | Goiserer Hut: The best view to the Dachstein summit, down to Goisern and Gosau, to the Gosaukamm an dth whole range is unforgettable.
To Austria's last wooden logging dam
Bad Goisern | Chorinsky Klause (logging dam): Through the romantic Weißenbach valley to the last wooden logging dam in Austria. About a three-hour adventure hike for the whole family.
Hütteneckalm
Bad Goisern | The hiking destination lies within a area of Bad Goisern and can be accomplished by everyone with little effort.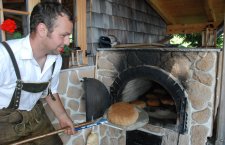 Traunreiter path
Bad Goisern | Traunreiter path: One of the most beautiful hiking paths in Bad Goisern, is close to the River Traun - the Traunreiterweg!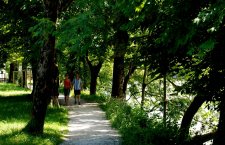 Figures and legends trail
Bad Goisern | You wil be accompanied by fabulous figures carved from tree trunks. From here, you can enjoy a fantastic view across the Goisern valley. 
Sarstein Crossing in Bad Goisern
The complete Sarsteinüberquerung (Sarstein Crossing) is an extended but rewarding whole day's tour. 9 or 10 hours. Mountain fans have the loveliest panoramic view here in the alpine world.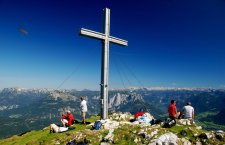 Family hiking trail
Hallstatt/Obertraun | East bank trail: along the lake of Hallstatt from Obersee to Obertraun, about 3 hours; around the Hallstätter Lake, about 7 hours! 
Rustic! Incomparable! Simply Irresistible!
Simply get away from the hustle and bustle, surrounded by nature, cowbells ringing instead of your smartphone…. Holidays up on an Alpine pasture, or in one of the many mountain huts, are becoming increasingly popular. But it is not always easy to find the "right" Alpine pasture or mountain hut. Therefore, we have compiled the most beautiful "Mountain service stations" for you, with stunning panoramic pictures and the most important information for all "newcomers" and World Heritage hikers. As it is usual in the Simonyhütte, the Adamekhütte or Hütteneckalm in Bad Goisern to greet people informally with a "Du" rather that the formal "Sie", as we say here in the UNESCO World Heritage region of Hallstatt Dachstein Salzkammergut…. "Grias di"!
Hiking
You will be spellbound by the magic world of the Dachstein and the other landmarks in the Inner Salzkammergut. Explore the most beautiful spots of this region on numerous small romantic paths and trails or on comfortable and well developed hiking trails.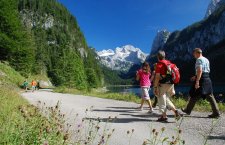 Safety Tips for Hikers
Admittedly, the landscape of the UNESCO World Heritage region of Hallstatt Dachstein Salzkammergut is the absolute pinnacle for hiking fans, mountain enthusiasts and nature lovers—unforgettable tours to incredibly beautiful mountain lodges and meadows, panorama views as far as the eye can see and cherished moments that will last a lifetime! However, you should remember that while hiking you might find yourself in high-alpine terrain. We've put together some resources to assist you: how to best prepare for your tour, recommended items for your backpack and steps to take in an emergency situation. Remember to always play it safe and enjoy your hiking adventure in the Salzkammergut!
Information at a glance
Safety Tips for Hiking
The best tips for tour preparation, equipment and emergency situations while hiking in the UNESCO World Heritage Region of Hallstatt Dachstein Salzkammergut at a glance. Remember to play it safe!
Should a situation arise where recuse services are required,
you can obtain the needed help under the number 112.
Contact
Tourist Office Bad Goisern on Lake Hallstatt
Ferienregion Dachstein Salzkammergut
Tourismusverband Inneres Salzkammergut
Kirchengasse 4
4822 Bad Goisern, Österreich
Austria
Phone: +43 (0) 5 95095 10
E-Mail: info@dachstein-salzkammergut.at
Bus stop: Bad Goisern Mitte/B145

Opening times
Tourist Office Bad Goisern
November to April: Mon – Fri 8.30 - 17:00 hrs.
Sat./Sun./Holiday 9.00 - 15.00 hrs
May to October: Mon. – Fri. 8.30 - 18.00 hrs.
Sat, Sun & Holidays 9.00 - 15.00 hrs.