Family hiking trail
East bank trail around Lake Hallstatt
Near the bathing area, about five-minutes walk from the Obertraun railway station, the Ostufer-Wanderweg (east-bank path) begins opposite the boat pier. Here is also the starting point of the Obertraun Höhenweg. But we walk along the railway line further in the direction of Schloß `Grub'. This private property is fenced, and we must remain outside. Soon you will notice that you are on a nature-study trail. Along the path, notice-boards have been erected which give information of the luxuriant vegetation here.
 Next to a railway hut we again come to the bank of the Hallstatt Lake. From here, you have a lovely view of the 4,500-year-old salt-mining community. In a half-hour we reach the Hallstatt railway station and the boat jetty. Our path leads further along the railway line, over a romantic suspension bridge and on a secure rock path, then on a smaller path along the lake. After about an hour we reach the area of the Obersee railway station and the Wanderwegstüberl (Seeraunzn), where we obtain our hiking stamp. Enjoy the lovely view to the west bank of the Hallstatt lake and the ~Gosaumühle peninsular. Obersee has not only a railway station but also a boat station serving Steeg and Hallstatt m2.
can carry on toward Steeg. In a further hour we come to Au on the main road and the Steeg-Gosau railway station. From here we can travel back to Hallstatt by bus, boat or rail. Those with the energy and two to three hours to spare, can walk back from Steeg on the Soleleitungsweg or the main road to Hallstatt and Obertrau n. The hike around the Hallstatt lake is a tour lasting a whole day and takes seven hours.

Bathing at the Eastern Shore Hiking Trail at Lake Hallstatt
Recreational paradise on Lake Hallstatt
Obertraun on Lake Hallstatt | Strandbad: The family-friendly beach in Obertraun on Lake Hallstatt is one of the most beautiful and best maintained swimming facilities on Lake Hallstatt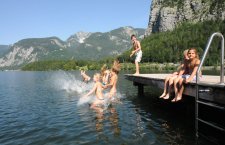 Untersee lido in Bad Goisern
Bad Goisern on Lake Hallstatt/ Untersee lido: The beautifully located lakeside resort, with stunning panoramic views over the fjord-like lake and the Krippenstein, the mountain for excursions and hiking, counts as one of the most beautiful bathing areas in the Salzkammergut.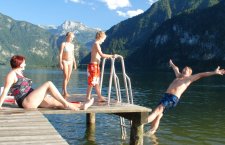 Information at a glance
Please note:
On this hiking trail, it is mandatory that dogs are kept on a lead. For further information, please contact the local tourist office or the local authorities. Thank you for your understanding!
Tour facts
Start: Stee-Gosau or Obertraun
End: Obertraun or Stee-Gosau
Length: 9,2 kilometer
Difficulty: Easy walking
Duration: 4 hours
Map material: Hiking map of the Inner Salzkammergut
Mark /Way No.: Ostuferwanderweg A16
Special experience: Various points of interest in Hallstatt including the "Bone House", spectacular hanging bridge and Worl Heritage site museum
Resting possibilities: Uferweg Seerauzn, close to the East bank trail