Hiking to the Iglmoosalm
The Iglmoosalm is very popular amongst hikers. You can reach it either the easy way by means of the "Gosau slow train" or by taking a one-and-half-hour walk from Gosau Mittertal. You can join the trail at various points. Allow 3 to 7 hours (return trip). Refreshments available from the Badstubnhütte (mountain hut) by the gritstone quarries.
Route I:
Follow the forest track which you join between Gamsjäger's guest house and the Gosauschmied inn. After approx. 30 mins we bear off into the woodland. From here we follow a well-indicated Theme Trail which brings us to the Historic Gritstone Quarries(allow about an hour and a half). From the quarries it is about half an hour further to the "Löckernmoos" mountain moorland from where you can walk on a wooden platform to the romantic Löckernsee mountain lake. Enjoy the wonderful panorama with the Gosaukamm mountain range in the background. Continue via the Grubalm to the "Wildfrauenloch". This is said to be a "lucky spot", and you can lean back and take a well earned rest on an unusual "seat" made from old fir trees.
Route II:
An additional uphill walk for experienced hikers begins at Lake Gosau. Walk via the Ebenalm and the Rabensteig Forestry Road to the Grubalm, and then finally you will arrive at the gritstone quarries (3 hours). Enjoy stunning views towards the summit of the Dachstein and the Salzburg Chalk Alps.
Routes III and IV: You can also walk back to either Gosau Mittertal or Gosau Vordertal. Tip: Take a break to explore the gritstone quarries from where valuable gritstone has been mined and worked since the sixteenth century.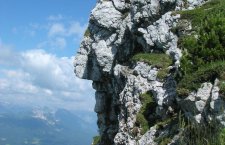 Events
Date: Sat, Sep. 29, 2018 , 09:00 — 16:00
Ort:  Iglmoosalm, Gosau
Counting sheep in Gosau: A leisurely day with delicious food awaits you on the Iglmoosalm.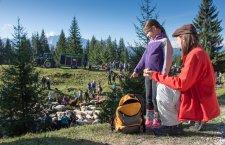 Safety Tips for Hikers
Admittedly, the landscape of the UNESCO World Heritage region of Hallstatt Dachstein Salzkammergut is the absolute pinnacle for hiking fans, mountain enthusiasts and nature lovers—unforgettable tours to incredibly beautiful mountain lodges and meadows, panorama views as far as the eye can see and cherished moments that will last a lifetime! However, you should remember that while hiking you might find yourself in high-alpine terrain. We've put together some resources to assist you: how to best prepare for your tour, recommended items for your backpack and steps to take in an emergency situation. Remember to always play it safe and enjoy your hiking adventure in the Salzkammergut!
Information at a glance
Tour and route information
Starting place: 4824 Gosau
Starting point: Ramsau (Gosau) or Pass Gschütt
Destination: 4824 Gosau
Destination: Iglmoosalm
Duration: 1h 30m
Length: 4 km
Altitude difference (uphill): 420m
Lowest point: 780m
Highest point: 1200m
Difficulty: easy
Panoramic view: To the Gosau Valley and Mount Gosaukamm
Paths covering: Hiking trail
Most economical season: Spring / Summer / Autumn
Safety Tips for Hiking
The best tips for tour preparation, equipment and emergency situations while hiking in the UNESCO World Heritage Region of Hallstatt Dachstein Salzkammergut at a glance. Remember to play it safe!
Should a situation arise where recuse services are required,
you can obtain the needed help under the number 112.