Sonnenalm in Gosau
Stopover up on the mountain pasture
As soon as you arrive, in the beautiful nature and mountains of the UNESCO World Heritage region of Hallstatt Dachstein Salzkammergut, you will start to forget your everyday life! The Sonnenalm, in Gosau, is a homely hideaway and offers the perfect rest stop on your hike through the impressive mountains of the hiking region Zwieselalm & Dachstein West - high above the Gosau Valley.
Dachstein West Hiking World
Gosau | Zwieselalm:: Here where skiers come to put their carving skills to the test in Winter, the gently rolling green meadows and mountain ridges offer fantastic views – the perfect place to enjoy a walk.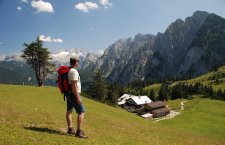 Whether it be summer or winter the Sonnenalm, located at 1580m above seas level, is the ideal place with its large sun terrace – in fact even the seasons in-between have their own appeal. From here you have a stunning view of the mighty Dachstein glacier. On clear days you can even see the Grossglockner. Whether as a break on a walking tour of the Zwieselalm, as a family trip to the pasture, skiing or snowshoeing - the magnificent sun terrace, the relaxing winter garden and the cosy restaurant invite you all year round to homemade pastries and hearty home cooking.
Events
Date: Sun, Jul. 1, 2018 , 11:00 — 19:00
Ort:  Zwieselalm, 4824 Gosau
The Zwieselalm offers all friends of folk music a musical highlight: all five participating lodges will be putting on live music all day.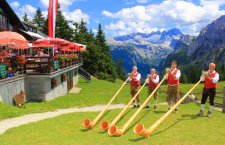 Date: Wed, Jul. 11, 2018 , 09:00 — 11:00
Ort:  Zwieselalm, 4824 Gosau
Hiking begins with the first step
Fancy a holiday with a difference? Backpacking and at one with unique landscape? Footloose and fancy free? Timeless and carefree? Then why not take one of the many long distance trails that lead through the holiday region around Lake Hallstatt in Austria. One of the most beautiful long distance trails is the "SalzAlpenSteig" between the romantic Lake Hallstatt and the 'Bavarian Sea' - Lake Chiemsee. The long distance hiking trail takes you through the most beautiful corners of the UNESCO World Heritage region of Hallstatt Dachstein Salzkammergut: Over scenic hiking trails, rustic mountain huts, with unforgettable panoramic views. And who knows? Maybe we'll bump into each other? On the "SalzAlpenSteig" between Hallstatt and Lake Chiemsee in Germany.
Information at a glance
Contact
Gonnenalm Gosau (hut)
Family Wenko
4824 Gosau
Austria
Phone: +43 (0) 664 4428675

Details
Location: 1580m, Sonnenalm in the hiking region Zwieselalm / Dachstein West in Gosau (Holiday region Dachstein Salzkammergut)
Cottage style: Open in summer from mid-June to mid-October and in winter from December to Easter. (See homepage for details)
Features: 10 rooms for accommodation with balcony, radio and communal shower.
Opening hours
Gosaukamm cable car Gosau
Open daily from 12th of May to 28th of October 2018.
Up & down / both ways
Daily opening times


12.05. to 15.06.2018


8:15 bis 16:50 hrs.


16.06. to 09.09.2018


8:15 r bis 17:20 hrs.


10.09. to 28.10.2018


8:15 bis 16:50 hrs.
Prices
Gosaukamm cable car Gosau
Aduld: 15,10  Euro
Children: 9,10 Euro
Dog:4,20 Euro
Family ticket available
PDF Download