Please read
Info for Krippenstein and Zwieselalm
Season start on 19th May 2021
Due to the current situation - "keyword Covid19" - the start of the season at the Cave Worlds and the Dachstein Krippenstein cable car in Obertraun, as well as the Gosaukammbahn on the Zwieselalm in Gosau have been postponed.
The new season start date is 19th May 2021. The Koppenbrüller Cave will also start the 2021 summer season at this time.
Note for all ski tourers: The running time for the early morning rides on the Krippenstein has been extended. You can find more info here.
A final note: The cable cars on the Feuerkogel in Ebensee and the Grünberg in Gmunden also start the new summer season on 19th May 2021.
Your editorial team
Dachstein Cave world
The Dachstein Cave World and its three natural show caves rank among the most significant natural monuments of Austria. About 200 million years ago the warm primeval ocean Tethys formed, extending directly over where today's huge Dachstein massif is rising. In the course of millions of years calcite precipitation and shells secreted by marine organisms were deposited on ocean floors forming a calcite stratum, 1.000 m deep. This sea was also home to 'megalodonts', heart-shaped shells and today the Dachstein massif is famous for these fossils which are due to their shape referred to as 'cattle footprints' ("Kuhtritte"). The Dachstein massif is a result of continental drifts causing the tectonic uplifting and folding of the calcite stratum. Water enriched with carbon dioxide infiltrated through surface cracks and crevices dissolving the limestone (calcite) and consequently forming caves which developed huge extensions in the course of time.
Events
Sun, May. 9, 2021 Dachstein-Rieseneishöhle, Obertraun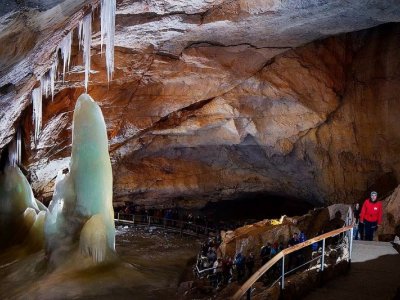 Sat, May. 15, 2021 Dachstein-Rieseneishöhle, Obertraun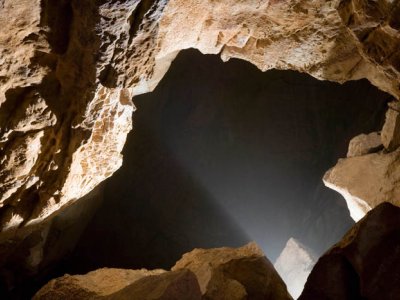 Tours in 8 languages
Tours through the ice and mammoth cave will become even more exciting and interesting with the Audio-Guide-App! Download the free "Audio Guide for your Smartphone" using the QR code via WiFi. The points for the languages English, French, Japanese, Mandarin, Czech, Italian and Hungarian can be found in the base and middle stations (access to the Cave Worlds) of the Dachstein Krippenstein cable car - and if you do not have headphones for your smartphone with you, you obtain a disposable headphone for €1 at the base station. We hope you enjoy your journey of discovery through the impressive Cave Worlds of the Dachstein.