Sports Trail in Gosau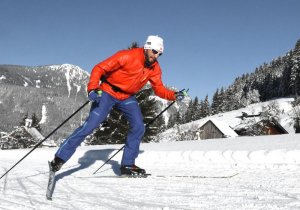 Sportloipe: Gib alles...!
Wer die Herausforderung sucht, spurt am besten auf der Sportloipe ein. Die zirka 5 Kilometer lange Strecke beginnt beim Gasthof Gamsjäger im Gosauer Hintertal und führt zunächst mit leichter Steigung durch den Wald. Danach geht es zum Gosauer Stausee steil bergauf. Mit den verschneiten Zinken des majestätischen Gosaukamms vor Augen geht es in Folge über die Hauptstraße und über Wiesen und Feldern zu den Einkehrmöglichkeiten "Gasthaus Echo" und "Gasthof Gosauschmied". Jeder Kilometer der Loipe ist ausgeschildert. Dazu gibt es eine detaillierte Wintersport- und Loipenkarte. Lust auf Natur, Lust auf frische Winterluft? Ob blinzelnd die Wärme der Wintersonne genießen, oder den Fahrtwind in der Loipe spüren: Die Sportloipe hat viel Abwechslung zu bieten!
Information at a glance
Strecken-Informationen zur Sportloipe in Gosau
Start: Gosauschmied
Ziel: Gosauschmied
Laufzeit: zirka 0,5 Stunde
Länge: 3,7 Kilometer
Höhenmeter: 76 hm
Anstieg / Abfahrt: gleich am Anfang ist ein steiler Anstieg bis zum Stausee, nach der Straßenüberquerung kommt wieder ein Anstieg bis zur Forststraße, dann geht's immer leicht bergab.
Our advice: Conveniently download prices, opening times and other information for your holiday in the UNESCO World Heritage region of Hallstatt Dachstein Salzkammergut, as a PDF on your tablet or smartphone. So you are always well informed and have all important information at hand.
Cross-country skiing map of Gosau / Gosau valley
PDF
Snow information
Ski region "Dachstein West"
Next update: November 2018
Best informed for your skiing day!
PDF Download

Hinweis für Langläufer in Gosau
Alle Loipen, bis auf die Spreißler Skating Loipe, werden Klassisch gespurt. Überall, wo es das Gelände erlaubt und die dementsprechende Breite gegeben ist, wird eine Skatingspur dazu präpariert.
Wintersport Aktuell:
Alle Pisten und Langlaufloipen in Gosau, Bad Goisern am Hallstättersee und Obertraun in Betrieb.
Lawinenwarndienst