Snow boot hiking
The destination is up to you!
Glistening powder snow, snowy winter landscapes, impressive views over the sea of clouds…, for those who stay away from prepared paths in winter, the fascinating landscape out of light, snow and ice of the World Heritage site of Hallstatt / Dachstein Salzkammergut opens up. The unforgettable view of white peaks against the backdrop of endless blue skies. Sometimes the path through the winter landscape is only possible with snowshoes. But snowshoes are not a new invention. Already the Native Americans used them to prevent themselves from sinking into the snow. Snowshoes make winter walks in the Salzkammergut, far away from roads and hiking trails, into a holiday experience.
Take advantage of this unique means of transportation and float light-footedly over the thick layer of snow. Discover the magical winter wonderland at its best and be enchanted by the winter landscape of the UNESCO World Heritage cultural landscape Hallstatt Dachstein Salzkammergut.
Snowshoeing in Gosau
Gosau | Hornspitzlift: Copied from the Indians and trappers: you barely sink, in the snowy winter landscape there is hardly a sound to be heard – not without reason is snowshoeing in Gosau a fun leisure time pursuit!
Snowshoeing on the Zwieselalm
Gosau | Zwieselalm: In the Gosau valley snowshoeing makes much more fun. The Zwieselalm offers snowshoers the opportunity to leave their mark far from the prepared winter hiking paths.
Snowshoeing on the Dachstein
Obertraun | Mount Krippenstein: SSnowshoeing with a magnificent panoramic view of the snowy Dachstein mountains at the World Hertitage Side Hallstatt Dachstein Salzkammergut.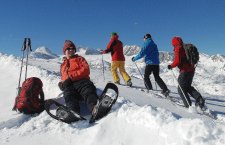 Snowshoeing in Bad Goisern
Bad Goisern | PanoramaNova: Winter hiking in crisp snow, a snowy winter landscape and wonderful rolling winter hiking paths... what more does the hiker's heart need?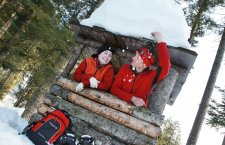 Easy snowshoeing
Obertraun | Dachstein Krippenstein: Without lengthy registration, endless preparations and long journeys. Winter hiking for the spontaneous with the Yeti snowshoe ticket on Lake Hallstatt. It doesn't get any easier!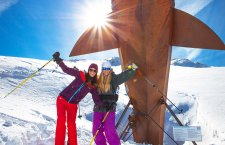 Safety tips for snowshoe hikers
Take a walk on the safe side! Here you will find the most important tips for an accident-free snowshoe hike within the Salzkammergut.
Guided snowshoeing tours
You love extraordinary, original nature experiences? Then, you absolutely should try snowshoeing. Discover nature with snowshoes on your feet.
For sporty early risers
Obertraun | Freesports Arena Krippenstein: For all ski tourers: Early Bird cable car rides onto the Krippenstein in Obertraun. Every weekend and public holidays at 7:30hrs.