Learn to ski with Brumsi & feel like you're flying!
Skiing bumble-bee Brumsi shows you how: on the magic carpet, Brumsi's boardercross and in the wild slalom flight amongst the fairytale figures, bombing past your parents on your boards and back to the start again. In Brumsiland, which is right at the valley station for the Hornspitzbahn in Gosau, even the littlest ski munchkin will learn superb turns. Lovely ski instructors from the ski school and Brumsi help you all to ski with ease. Your parents also get to watch you make speedy progress, as they relax over a cup of coffee and beam with pride.
For beginners, pleasure skiers & snowboarders: The family ski area Dachstein West will spoil you with wide, perfectly groomed slopes, modern lifts and above all beautiful huts where traditional dishes are served. The snow crunches under the 'planks', the bright winter sun and the magnificent landscape will put a smile on your face. See you skiing in Gosau!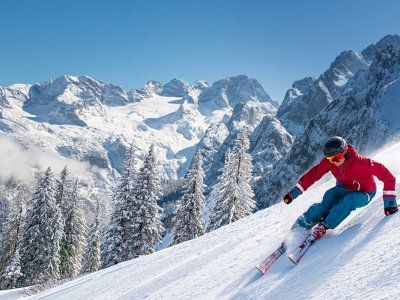 Book your adventure now!
Whether you're a beginning or an experienced skier, the multi-page web portal of the holiday region Dachstein Salzkammergut (www.hallstatt.net, www.gosautal.net, www.bad-goisern.net and www.obertraun.net) offers a wide variety of resources including information about skiing, accommodations, and other news concerning winter sports in the world heritage region. Endless kilometres of ski slopes await discovery in the family-friendly ski regions of Dachstein West in Gosau and the Freeride Arena on the Krippenstein in Obertraun on Lake Hallstatt. For weekend excursions or unforgettable week-long adventures in snow, you'll find the most beautiful hotels, holiday apartments and bed & breakfasts in our extensive accommodations registry. Book your holiday now—get out there and enjoy the winter paradise of the UNESCO World Heritage Region of Hallstatt Dachstein Salzkammergut.