"Niedere (lower) Sarsteinalm" Bad Goisern
This highest alpine pasture of the Salzkammergut
The lower Sarsteinalm is located at 1710m above sea level in Bad Goisern on Lake Hallstatt and is a popular stopover for all Sarstein hikers in summer, as well as in autumn. This highest alpine pasture of the Salzkammergut is farmed all summer. The dairymaid not only provides drinks to quench your thirst but also refreshes the palate of the hungry hikers with small, simple meals such as "Kaiserschmarrn" and sandwiches – in addition there is the view of the wild peaks of the Gosaukamm.
Our tip: If you want to stay overnight at the Niederen Sarsteinalm, you should secure a place in advance. Especially during the main hiking season it could be that the sleeping places in the mattress dormitory are already full!
Stempeln gehen und gewinnen!
Mit dem Stempelpass der Hüttenroas können Sie richtig gewinnen. Und das im doppelten Sinne: Großartige Bergerlebisse und jede Menge an Preisen. Mit dabei sind die Simonyhütte, das Wiesberghaus, Hütteneckalm, die Goisererhütte, die Niedere Sarsteinalm, die Adamekhütte in Gosau und weitere Berggenusspunkte. Mehr zur Hüttenroas und weitere Information zum Gewinnspiel erhalten Sie hier... Wir sehen uns bei der Hüttenroas 2017 im Salzkammergut!
Aktueller Blick auf's Wetter
Safety Tips for Hikers
Admittedly, the landscape of the UNESCO World Heritage region of Hallstatt Dachstein Salzkammergut is the absolute pinnacle for hiking fans, mountain enthusiasts and nature lovers—unforgettable tours to incredibly beautiful mountain lodges and meadows, panorama views as far as the eye can see and cherished moments that will last a lifetime! However, you should remember that while hiking you might find yourself in high-alpine terrain. We've put together some resources to assist you: how to best prepare for your tour, recommended items for your backpack and steps to take in an emergency situation. Remember to always play it safe and enjoy your hiking adventure in the Salzkammergut!
Sarstein Crossing in Bad Goisern
The complete Sarsteinüberquerung (Sarstein Crossing) is an extended but rewarding whole day's tour. 9 or 10 hours. Mountain fans have the loveliest panoramic view here in the alpine world.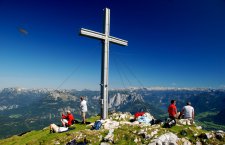 Heavenly Perspective
Lace up your hiking boots, load up your backpack and hit the trail! Enjoy gorgeous natural surroundings, charming architecture and friendly people as you wander down idyllic lanes and paths. The daily grind gets left behind and your head becomes as clear as the air in the high alpine landscape of the UNESCO World Heritage Region of Hallstatt Dachstein Salzkammergut. Along the well-marked paths, you will find the ideal conditions for escaping the monotony of everyday life. Whether you're a passionate mountain hiker or a nature enthusiast, traveling alone or with the entire family, you'll enjoy scaling our regional peaks. In our comprehensive route planner, you'll discover a variety of suggestions for creating your ideal hike. You can pick up a detailed hiking map at one of the four tourist offices of the Dachstein Salzkammergut holiday region. Each map describes favourite routes for exploring Hallstatt, Bad Goisern on Lake Hallstatt, Gosau and Obertraun. We hope you'll have a wonderful time discovering the wonders between our mountains and lakes!
Information at a glance
Contact
"Niedere (lower) Sarsteinalm" Bad Goisern
Contact person: Ralf Eggenreiter
Reitern 3
4823 Steeg (Bad Goisern am Hallstättersee)
Austria
Phone: +43 (0) 660 / 49 49 385
E-Mail: ralf.eggenreiter@sarstein.at
Homepage: www.sarstein.at
Location: 1710m above sea level (Niedere (lower) Sarsteinalm in Bad Goisern on Lake Hallstatt)
Category: Managed Alpine pasture. From June to October
Facilities: Mattress dormitory - Take your sleeping bag!