Kalvarienberg church in Gosau
Place of tranquillity with distant views
The romantic Kalvarienberg church in Gosau is certainly one of the most beautiful places of happiness in the Salzkammergut. The idyllic gem, a 30 minute walk from the Gosau Tourist Information office, is located high above the holiday resort with wonderful panoramic views of the entire Gosau Valley and the mighty peaks of the Gosaukamm thrown in for free.
Historic background
In 1775, the Hallstatt salt merchant Johann Sollinger erected the Kalvarienberg church and the Stations of the Cross with its five chapels, although - or because – back then Gosau was constituted as an almost closed Protestant community: The Innsbruck University Professor Josef August Schultes, who travelled through the Salzkammergut between 1784 and 1808, even speaks of an Austrian Wittenberg. Much water had to flow through the Gosau stream before the peaceful ecumenism. For example up until 1861 the Protestants refused the tolling of bells or building of a tower and the Catholic priest charged 'surplice fees' for christenings or weddings even if they were carried out by his evangelical colleague.
Our tip: The Kalvarienberg church 'Glücksplatz' (place of happiness), is especially charming in late summer when the early morning fog lies over the valley and Gosau slowly awakes. We suggest you experience it for yourself during a holiday in Gosau! Whatever you choose, we wish you a pleasant holiday in the UNESCO World Heritage region of Hallstatt Dachstein Salzkammergut.
View the Gosau valley
Gosau | Panorama route: Family-friendly hike along the Gosau valley. A special experience.
Leaving the church in the village
Gosau | An easy stroll from the village centre through the church quarter. This stroll is also suitable for families with pushchairs.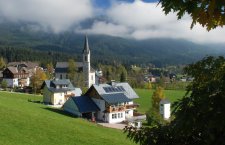 Events
Date: Sun, Dec. 3, 2017 , 20:00 — 22:00
Ort:  Tourismusbüro Gosau, Gosau 547 4824 Gosau
A very special winter experience. A leisurely evening walk through Gosau to the "Kalvarienberg" in torchlight. Please register in time!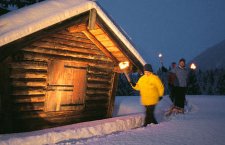 Date: Wed, Jul. 4, 2018 , 20:00
Ort:  Kalvarienberg, 4824 Gosau
The small Kalvarienberg (Mount Calvary) Church in Gosau provides a stunning background to this musical event - a melodious holiday occasion with exceptional panorama views.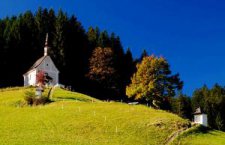 Magical Spots between Mountains and Lakes
From the Kalverienberg in Gosau, which offers visitors fantastic panoramas of the Gosau Valley, the romantic Koppenwinkel Lake in Obertraun with its absolute tranquillity, to the incomparable charm of the "Goiserer Seeplatzl", the numerous enchanting locations of the UNESCO World Heritage Region of Hallstatt Dachstein Salzkammergut wait to be discovered. We've compiled a list of the most beautiful natural settings between mountains and lakes just for you—and new ideas are continually added!
Information at a glance
Contact
Katholischne Kirche Gosau
Gosau 1
4824 Gosau
Austria
Phone: +43 (0) 6136 8261