Gosau - Moments of Bliss
And when are you coming?
Enjoyment always comes first during a holiday in the Gosau Valley: No matter if in the saddle, on "Shank's pony", on the wall, on two planks or in the grove. In Gosau, in the UNESCO World Heritage region of Hallstatt Dachstein Salzkammergut, there is always something going on whatever the season! Picturesque "Glücksplätze" (places of happiness) and plenty of events ensure the right mix. Sometimes up, sometimes down! But always with lots of lifeblood. Let yourself be surprised! See you in the Gosau Valley!
Summer in the Gosau Valley
Outdoor sports
Rock climbing has become very popular in region Dachstein-Salzkammergut over the last number of years. And no wonder – there thousands of cliffs, bluffs and crags for climbers to test their skills.
» Rock Climbing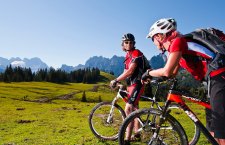 Whether you ride a mountain bike to achieve sporting ambitions or for pure enjoyment, the landscape around the Gosau Valley is a bikers' paradise.
» Mountain Bike Tours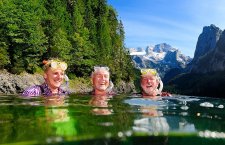 Water is the source of life and the past begins under water – experience the UNESCO World Cultural Heritage Site of Hallstatt and Gosau
» I want to dive
Hiking at a glance
Hiking in Gosau- a very special treat! Here you will find the most beautiful hiking trails, the most popular mountain huts and Alpine pastures, impressive landscapes, guided tours and numerous insider tips about in and around the Lake Hallstatt area.
» Hiking in the Gosau Valley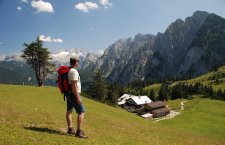 Here where skiers come to put their carving skills to the test in Winter, the gently rolling green meadows and mountain ridges offer fantastic views – the perfect place to enjoy a walk.
» Dachstein West Hiking World
Get ready for one of the biggest challenges of your life.
Trekking in one of the most beautiful landscapes in Europe. Your remedy for itchy feet! Let's go!
» Salzkammergut long distance hiking trail
Service & Information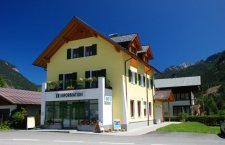 nformative brochures and catalogues with great offers for any time of year can be sent to you quickly and at no obligation. We look forward to your call and will be happy to give you advice and further information personally with News from the Dachstein Salzkammergut-region.
» Tourist Office Gosau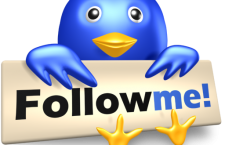 You will hear it first here. Always up-to-date. Do not miss anything. Always have your finger on the pulse of time. The World Heritage region at its fastest. Become a follower now! Stay curious....
» To Twitter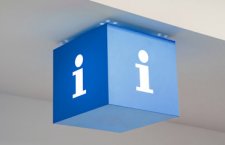 Whether you plan on staying in the Dachstein Salzkammergut region for several days or a mere few hours, whether you travel by yourself or with friends and family – we supply detailed information for your visit in the Dachstein Salzkammergut region.
» Service
World Heritage
Since living memory it was the salt which provided the wealth for the Inner Salzkammergut. The salt is the basis for the typical ancient customs and interesting cultural peculiarities.
» UNESCO World Heritage region
Would you like to know more about tradition and customs? Here you can find out more about individual events and authentic folk culture. Interesting trivialities not found in any travel guide.
» Customs and traditions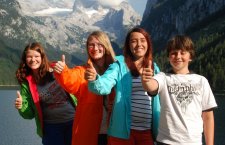 School trips usually require a lot of organisation: lengthy phone calls, complicated price tarifs... When you book with us, however, this is not the case. Everything is organised all in one go!
» School Project Week
Winter holiday in the Gosau valley: A fairytale in white
Dachstein West ski region: with new adventure-packed pistes for more skiing fun, delicious treats served by welcoming Alpine hosts.
» Pure fun – on and alongside the pistes!
Mid-January people will look up to the skies for a very different reason 30 to 40 brightly coloured hot air balloons will take to the skies, creating a magnificent display against a backdrop of snow laden trees and stunning mountain scenery.
» Balloon Week Gosau 2019
Romantic magic of Advent in the traditional open-air museum of Gosau. An experience for all the senses! A magic of variety in the heart of the World Heritage. The distinctive charm of the Alpine Christmas market will delight you!
» Gosauer Berg-Weihnacht