Holiday home Silvia Cijan - Hallstatt
This cosy little cottage with the quietly located apartment for 2-4 persons is located just 50 meters from Lake Hallstatt and the bathing island with a large children's playground. Ideal for all families!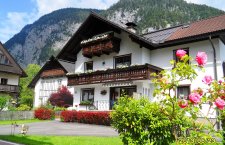 Family Cijan warmly welcome you
The small house with a cosy apartment is located in a quiet location, about 50m from the lake and accommodates 2-4 people. The large garden with a cosy lawn is ideal for sunbathing. Only 50m away from the apartment is Lake Hallstatt including bathing island and children's playground. The centre of Hallstatt is just a 5-10 minute walk.
Lovely Holiday Apartment in Hallstatt
The holiday apartment belonging to the family Silvia Cijan is well equipped for your holiday in the Salzkammergut. This small, cosy "holiday home" not only offers a spacious twin room but also has numerous various extras that will make your holiday in Hallstatt unforgettable: Parking in front of the house or free Internet access via WiFi. And if you ever need to do laundry on your vacation on Lake Hallstatt, this is not a problem: A washing machine is available at any time for a small fee.
Bathing fun with panoramic views right on the doorstep
Just a minute walk away is the bathing island of Hallstatt – a meeting place for guests and locals. The cosy swimming area, with panoramic views of Hallstatt is equipped with a large children's play area, large sunbathing area and toilet facilities. Perfect for family bathing fun. And when it gets dark, you will get a particularly good view of the starry sky. More information on the island Hallstatt bathing island....
We wish you a wonderful holiday with family Cijan in Hallstatt
Facilities
Twin - Apartment 45 m2 (1-2 extra beds available on request)
Kitchen with fridge, kettle, coffee machine, ceramic hob, oven, microwave, all cooking utensils
Shower / WC, hairdryer, towels
Flat screen satellite TV
Free internet access - wireless internet throughout the apartment (WiFi)
Bed linen and towels provided
Parking directly by the apartment (no reservation required)
A washing machine is available for a small fee
Self-catering
Weather permitting it is possible to use the outdoor area (garden with pond) and the summer house with garden table
Prices
120.- Euro per night for 2 persons – Minimum stay 3 nights (Jue to September – only weekly rental )
Children to 12 years free, every next persons from 12 years 25.- Euro per night (maximum 2 extra beds possible)
Price includes final cleaning, tourist tax, parking and WiFi
Send booking inquiry for Holiday home Silvia Cijan now!
Your free holiday adventure card!
A holiday, in the UNESCO World Heritage region of Hallstatt Dachstein Salzkammergut, is now twice as rewarding: Enjoy unforgettable experiences and save at the same time! How does this work, you ask? With the Salzkammergut Adventure Card or the Salzkammergut Winter Card. - Depending on the season! These cards are free, when staying for three nights or more and are available from numerous accommodation establishments as well as in the four tourist offices of the Dachstein Salzkammergut holiday region. This will turn your summer holiday in Bad Goisern, Gosau, Hallstatt and Obertraun, into an unforgettable experience! Here is an overview of the attractions and leisure activities where you will receive a discount with the Salzkammergut Adventure Card or the Salzkammergut Winter Card! We wish you relaxing holidays between mountains & lakes within the World Heritage.
Always well-informed
When is the next cable car to the Dachstein Plateau in Obertraun? When does the next sightseeing ship depart from Hallstatt? With the four tourism platforms of the UNESCO World Heritage site of Hallstatt Dachstein Salzkammergut // www.hallstatt.net // www.bad-goisern.net // www.obertraun.net // www.gosautal.net // you will always stay up-to-date on current hours of operation, itineraries and more. If you'd like to use this information for during your stay in the holiday region of Dachstein Salzkammergut, then we would suggest that you save the appropriate website of your holiday destination in your favourites list on your smartphone or tablet. Then, you will always be informed during your holiday in the Salzkammergut. We hope to see you in Hallstatt, Gosau, Bad Goisern and Obertraun!
Hallstatt - Small village with a great history
The picturesque village on the lake with the same name owes its existence to the rich salt deposit of salt in the mountain of Hallstatt. 7000 years ago, as the prehistoric humans from Hallstatt began to take the salt from the salt mine who would of guessed, that this little village would give its name to a period in history – the Hallstatt period (800-400 BC). Rich findings in Hallstatt and the upper valley of Hallstatt gave this village international recognition; even today discoveries are still made in the salt mountain of Hallstatt.  Among the most beautiful places of interest are the oldest salt mine in the world and the ossuary in Hallstatt, a romantic boat ride on Lake Hallstatt, a trip to the breathtaking cave world in Obertraun and a visit to the Lake Gosau with the mighty Dachstein glacier. Additionally, Bad Goisern is popular in the summer with hikers and bikers. In winter guests are lured in by the ski areas of Dachstein West in Gosau and the Ski and Freeride Arena in neighboring Obertraun with perfect slope conditions. We wish you an unforgettable holiday in Hallstatt!
Share the excitement
Give your friends, relatives or acquaintances a little treat and share this page on Facebook, Twitter or Google Plus. Bacause a holiday on Lake Hallstatt is there for everyone!
Send booking inquiry for Holiday home Silvia Cijan now!