Kopriwa holiay home - Bad Goisern am Hallstättersee
Feel as though you are taken back in time whilst holidaying in the Kopriwa holiday home in Bad Goisern, with wonderful lake views. Minimu stay 5 nights! Book online now!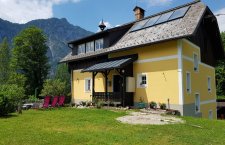 Unfortunately we could not find any free accommodation for the selected period (24.05.2018 - 26.05.2018)
1 rooms or packages available at a different date:
Ferienhaus Kopriwa
from € 110,00 per night
Description
Traumhafter Blick zum See, absolute ruhige Lage
Facilities
Sanitary: Bathtub, Separate lavatory, Shower, Towel dryer, Windowed bathroom, Lavatory, Lavatories on the floor Equipment: Integrated kitchen, Oven, Windows possible to open, Coffee and tea cooking facilities, Radio, 3 bedrooms, Double bed, Separate mattresses, Windows with noise protection, Toaster, Room safe, Bed linen available, Hair dryer, Vanity mirror, Desk, Wifi, Baby monitor, Dinette, Towels available, Non smoking room, CD player, Separate beds, Refrigerator, Dish and kitchen linen available, Room with connecting door, Balcony/terrace, TV, Coffee machine, Satelite TV, Washing machine, Baby cot, Single bed, Size in sqm, Microwave, Additional bed, Ironing board, Dishwasher, Separate kitchen, Seating Location: Mountain facing, Main building, Old building, Sea facing, Garden facing, Ocean view Floor: Ground floor, 1st floor
Conditions / Extras
Eine Buchung ist nur mit Anzahlung von 30% gültig.
Überweisung, PayPal, Kreditkarte
Anreise nur mit PKW
Holiday with breathtaking lake views
The Kopriwa house was built in 1925. Although the house has been lovingly renovated, the charm of the Biedermeier period still remains and can accommodate up to 7 people. The rooms are bright and with wonderful views to the lake. After a hearty breakfast on the terrace, you will want to jump on the bike or put on your hiking boots in order to explore our beautiful area. The Ostuferwanderweg, a trail which takes you along the east eastern shore of Lake Hallstatt, passes right by the house.
The house was built in 1925 and has retained much of its original design. Extensive renovations to the home are planned for April and May. In the interior, new wood flooring will be installed. Individual rooms will be fitted with infrared wall heaters. New windows and a new façade with insulation are also planned. The terrace will be updated with a railing, thus creating whole new look.
For those who need lots of space!
The Kopriwa house has a size of 150 m². On the ground floor you will find the large living room with TV and passage into the bedroom. Continuing to the kitchen in the entrance hall with WC and stairs to the first floor. Here is the bathroom with shower and bathtub. The water is heated by solar panels. 2 separate toilets are available. In addition, one room with double bed, TV and balcony. The second room, with twin beds is accessible through a connecting door.
The kitchen is partially still original but still offers all the facilities you need for dining together. However, you will need to help each other to do the dishes. Since the house has no heating, it is only rented out in summer. On colder days you can of course light the tiled stoves in the kitchen or on the upper floor.
Holiday paradise for children
In the garden is a little hut, a garden shower provides for rapid cooling as well as a small paddling pool for our younger guests to enjoy. There are also some toys available. Parking is available and of course you will also find wood for the stove. In the basement there are also bikes that are waiting to be used.
The nearest restaurants or shops are located about 3 km away in the district Au. Gasthof Kunze with its own butcher, Gasthof Post with its pizzeria or the Steegwirt, near the Traun bridge.
Please note that the rear double bedroom is only accessible via the front double bedroom. (Walk-through room).
Facilities
Location
Distance to the lake (in km): 1
Quite environment
Distance to subway (in km): 3
Distance to the forest (in km)
Distance to fairground/conference centre (in km): 70
Rural area
Distance to city centre (in km): 4
Distance to the beach (in km): 1
Distance to airport (in km): 70
Distance to next public transport station (in km): 1
Distance to next train station (in km): 1
Service
No board included
Pets not permitted
Electronic Cash
VISA
Lawns for sunbathing
Bike storage
Pick-up service from next railway station
Parking area
Credit cards
Eurocard/Mastercard
Capacities
Number of beds: 7
Number of double rooms: 3
number of roooms: 6
Number of single rooms: 1
Equipment
Historical ambience
TV-room
washing machine in the house
Baby cot
Chimney
Comfortable ambience
Basic ambience
Terrace
Lounge area
Internet usage possible
Breakfast room
Wifi
Room with Balcony
Non-smoking host
Leisure/Sport
Barbecue facilities
Garden
Hiking trails
Themes
Families
Active and sport
Mountains
Hiking/nature
Bathing/beach/ocean
Book Kopriwa holiay home now!
Your free holiday adventure card!
A holiday, in the UNESCO World Heritage region of Hallstatt Dachstein Salzkammergut, is now twice as rewarding: Enjoy unforgettable experiences and save at the same time! How does this work, you ask? With the Salzkammergut Adventure Card or the Salzkammergut Winter Card. - Depending on the season! These cards are free, when staying for three nights or more and are available from numerous accommodation establishments as well as in the four tourist offices of the Dachstein Salzkammergut holiday region. This will turn your summer holiday in Bad Goisern, Gosau, Hallstatt and Obertraun, into an unforgettable experience! Here is an overview of the attractions and leisure activities where you will receive a discount with the Salzkammergut Adventure Card or the Salzkammergut Winter Card! We wish you relaxing holidays between mountains & lakes within the World Heritage.
Always well-informed
When is the next cable car to the Dachstein Plateau in Obertraun? When does the next sightseeing ship depart from Hallstatt? With the four tourism platforms of the UNESCO World Heritage site of Hallstatt Dachstein Salzkammergut // www.hallstatt.net // www.bad-goisern.net // www.obertraun.net // www.gosautal.net // you will always stay up-to-date on current hours of operation, itineraries and more. If you'd like to use this information for during your stay in the holiday region of Dachstein Salzkammergut, then we would suggest that you save the appropriate website of your holiday destination in your favourites list on your smartphone or tablet. Then, you will always be informed during your holiday in the Salzkammergut. We hope to see you in Hallstatt, Gosau, Bad Goisern and Obertraun!
Book Kopriwa holiay home now!