Places of happiness: Gosau Lacke
Relax and enjoy
There are many "Glücksplätze" (places of happiness) in the Salzkammergut region, but the little body of water situated between the front and rear Gosau lakes, called "Gosaulacke" is certainly one of the most beautiful energetic places in Gosau – especially in autumn. The small pool of water is shallow, and only experiences a very small permanent inflow from the Launigg karst spring and the small Brandsee. But when the snow melts or after heavy rains the Gosaulacke can be filled by the overflowing Hinterer Gosausee and then runs itself into the nearby Vorderen Lake Gosau. In dry periods however, the small lake whose water quality varies between excellent clear and turbid, disappears. Here you can just sit back and unwind.
Our tip: A hike to "Glücksplatz" Gosaulacke can be combined perfectly with a tour to the Hinterer Lake Gosau.
UNESCO World Heritage of Hallstatt Dachstein Salzkammergut | Places of happiness: Find the best areas of tranquillity, energetic places and relaxation points between lakes and mountains! Holiday for body and soul. Stock up now!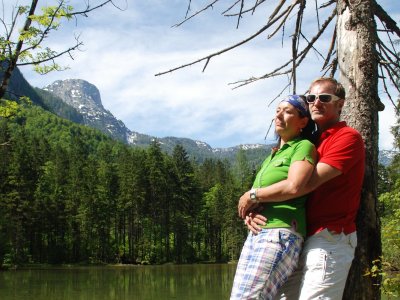 Informationen at a glance
• Hiking time from the car park at the Vorderen Lake about 1 hour
• Further hiking possibilities: to the Hinteren (rear) Lake Gosau (about 45 minutes) and the Alpine tours to the Adamekhütte (4 hours) and through the Radltal to Hallstatt (8 hours).
• Road surface: gravel road
Note for bikers:
The trip around the Vorderen Lake Gosau, to the "lucky place Gosaulacke" and the Hinteren Lake Gosau, is not allowed by bicycle. There is a traffic ban! The ride to Ebenalm in Gosau on a mountain bike, a few meters along the left bank of the Vorderen Lake Gosau is permitted! Thank you for your understanding!