Tourist Office Gosau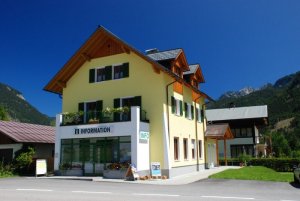 Welcome in the Gosau Valley
Informative brochures and catalogues with great offers for any time of year can be sent to you quickly and at no obligation. We look forward to your call and will be happy to give you advice and further information personally with News from the Dachstein Salzkammergut-region.
Freie Unterkünfte suchen!
Our service for you: Ö-Ticket
The Tourist office Inner Salzkammergut is Partner of "Ö-Ticket", a ticket service, which is Markleader for the event tickets in Austria. You have the possibility to buy tickets for more than 25.000 events in whole europe, in our tourist information offices. One of the biggest open air concerts in the region is the "Seer Open-Air", which is hold every year in Grundlsee, in Styria. Buy your tickets for this event on "Ö-Ticket" in your tourist information centre Inner Salzkammergut.
Information at a glance
Contact
Tourist Office Gosau
Ferienregion Dachstein Salzkammergut
Tourismusverband Inneres Salzkammergut Geschäftsstelle Gosau
Nr. 547
4824 Gosau, Austria
Phone: +43 (0) 5 95095 20
Fax: +43 (0) 6136 / 8255
E-Mail: gosau@dachstein-salzkammergut.at 
Homepage: www.gosautal.net

Regular opening times
Tourist Office Gosau
November to April: Mon – Fri 8.30 - 17:00 hrs.
Sat./Sun./Holiday 9.00 - 15.00 hrs
May to October: Mon. – Fri. 8.30 - 18.00 hrs.
Sat, Sun & Holidays 9.00 - 15.00 hrs.