Lakeside Loft - Hallstatt
Spacious lakeside apartment for the individualist. If you are looking for originality and comfort - you have found it! Minimum stay of 3 days. December & January as well as July & August - lettings only by the week.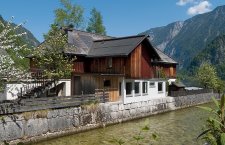 "Loft am See" - lakeside loft in Hallstatt
The recently renovated ground floor apartment in this unique building not only offers about 100 m2 of living space - to top it all off it also comes with a sizeable garden and private access to the lake.
The historic background of this building can be traced back as far as 1807. It originated at the height of economic prosperity derived from the salt trade which gave this whole region, the Salzkammergut, its name. The present structure was erected in 1845 and was used as a lumber mill until 1962.
Between 1978 and 1982 it was used as showroom and gallery for various art exhibits. It was eventually adapted as a private residence in 1986 - with all modern comforts. The rear wall of the living room has the original bricking.

If you appreciate aesthetic interior design and take pleasure in a tasteful and subtle flair of old and new and enjoy that special touch Šmake your vacation a memorable one at the "Loft am See"! It would be our pleasure to welcome you as our guests and make your stay as enjoyable aspossible.
Information compact
We offer you 120 m2 of extravagance in relaxed ambience.
Perfect for 2 - 4 persons; maximum occupancy 6 persons.
Minimum stay of 3 days
December & January as well as July & August - lettings only by the week.
Your free holiday adventure card!
A holiday, in the UNESCO World Heritage region of Hallstatt Dachstein Salzkammergut, is now twice as rewarding: Enjoy unforgettable experiences and save at the same time! How does this work, you ask? With the Salzkammergut Adventure Card or the Salzkammergut Winter Card. - Depending on the season! These cards are free, when staying for three nights or more and are available from numerous accommodation establishments as well as in the four tourist offices of the Dachstein Salzkammergut holiday region. This will turn your summer holiday in Bad Goisern, Gosau, Hallstatt and Obertraun, into an unforgettable experience! Here is an overview of the attractions and leisure activities where you will receive a discount with the Salzkammergut Adventure Card or the Salzkammergut Winter Card! We wish you relaxing holidays between mountains & lakes within the World Heritage.
Always well-informed
When is the next cable car to the Dachstein Plateau in Obertraun? When does the next sightseeing ship depart from Hallstatt? With the four tourism platforms of the UNESCO World Heritage site of Hallstatt Dachstein Salzkammergut // www.hallstatt.net // www.bad-goisern.net // www.obertraun.net // www.gosautal.net // you will always stay up-to-date on current hours of operation, itineraries and more. If you'd like to use this information for during your stay in the holiday region of Dachstein Salzkammergut, then we would suggest that you save the appropriate website of your holiday destination in your favourites list on your smartphone or tablet. Then, you will always be informed during your holiday in the Salzkammergut. We hope to see you in Hallstatt, Gosau, Bad Goisern and Obertraun!
Send booking inquiry for Lakeside Loft now!