Mountain Bike Tours
Happiness on two wheels
With a total length of 345 km, the Salzkammergut cycle path is the ideal way to cycle through all three states of the Salzkammergut. It combines the famous Salzkammergut lakes and leads you through picturesque villages and towns. We are a movelo rental station. This makes cycling a pleasure. You want to bike at the most beautiful places? Well, then you have no other alternative than the Salzkammergut – no matter in what shape you are, how fast you want to go, how old you are! The tracks around the fascinating Dachstein promise no stress, breathless fun, healthy exhaustion and a mental incitation.
Arrival by bike
Arrive safely by bicycle or mountain bike along the "Ostuferradwanderweg" (East shore hiking and bike trail) to Hallstatt and Obertraun. Endless landscape and particularly family-friendly.
Events
Date: Thu, May. 31, 2018 , 10:00
Ort:  E-Bike Verleih Nemo-Point , Gosauseestraße 7 4824 Gosau
Alluringly good eBike tours. Guided cycling tour to the most beautiful alpine pastures and huts in the Gosau Valley.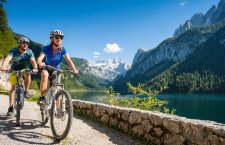 Date: Fri, Jul. 13, 2018
Ort:  Bad Goisern, 4822 Bad Goisern
Austria's biggest and toughest Mountain Bike event from July 13 until 15, 2018: A ride to hell and back!?