Nature Trail
The recently established Nature trail on the Dachstein plateau is an important component of the World Heritage Hiking world. This trail travels across the karst plateau and "lures" with pristine high alpine scenery. Along the trail karst patterns highly impress as well as the wide variety of fauna and flora and the easternmost glacier of the Alps. The convenient Dachstein Nature trail features catered mountain lodges (locations where both culinary refreshment and accommodation is offered) within 2 hours walking distances from each other.
The surrounding nature reserve is part of "Natura 2000", the ecological network in the territory of the EU, and of World Heritage site "Hallstatt-Dachstein-Salzkammergut ". The convenient trail, 8 km long, is suitable for everyone and introduces to distinct local features via informative boards containing texts about geology, fauna and flora common to the plateau.
Huts on the Nature Trail
Hallstatt / Obertraun | Simonyhütte: Nestled picturesquely at the foot of the Dachstein, with a beautiful view, the refuge is located 2,203m above sea level, amidst the impressive mountains of the Dachstein plateau.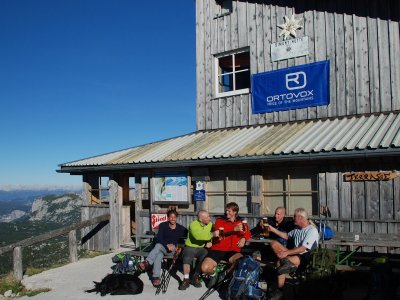 Obertraun | Gjaidalm: Here you will find what you have often sought in vain elsewhere ... Relaxation - Tranquillity - Nature – Rest in a charming alpine landscape on the Dachstein plateau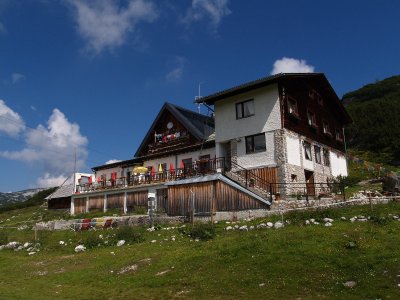 Safety Tips for Hikers
Admittedly, the landscape of the UNESCO World Heritage region of Hallstatt Dachstein Salzkammergut is the absolute pinnacle for hiking fans, mountain enthusiasts and nature lovers—unforgettable tours to incredibly beautiful mountain lodges and meadows, panorama views as far as the eye can see and cherished moments that will last a lifetime! However, you should remember that while hiking you might find yourself in high-alpine terrain. We've put together some resources to assist you: how to best prepare for your tour, recommended items for your backpack and steps to take in an emergency situation. Remember to always play it safe and enjoy your hiking adventure in the Salzkammergut!
More time to enjoy!
To save you unnecessary searching on various websites, we have summarised all relevant information about this tour for you below: contact details, opening times, travel times of cable cars, links to public transport and much more. In this way, you get all the information at a glance and have more time to enjoy the breathtaking mountains of the Salzkammergut.