"Badstub'n Hütte" (hut) in Gosau
First hike, then a treat
There is a place in Gosau, where a very special sweet delicacy meets old fashioned craftsmanship and unbelievably beautiful upland moor landscape: in the quaint "Badstub'n" below the Löckermoosen and just around the corner of the grindstone quarry in Gosau, the hut host Linde offers you a very special delicacy: Genuine Gosau "Pofesen" – a French toast filled with plum jam and is the ideal refreshment after an eventful hike to one of the most beautiful places in the Gosau Valley. The hut can also be comfortably reached with the Gosau slow train. In the summer there are weekly guided tours. Information and registration with the tourist office.
"Badstub'n" experience
The Badstub'n can be easily reached in comfort with the Gosau slow train, which heads to the cosy hut several times a week. As part of a "guided tour" with the Gosau hiking guide, you will have the opportunity to explore the Löckermoos upland moor. Nature lovers love this very special part of the World....
Sweet from the mountain
"Pofesen" are traditionally served in the UNESCO World Heritage Hallstatt Dachstein Salzkammergut on Good Friday as a Lenten food. In the charming Gosau Valley, you can also enjoy this very special meal in summer. A classic, which has its origin in the poorer, rural cuisine. The delicious dessert consists of two slices of white bread coated with plum jam, which are then folded together and dipped in a mixture of milk and egg and then fried in a pan with hot fat. After cooling down somewhat, they and then dusted with casting sugar and eaten warm. Whether as a snack, or full-blown main course; Gosau "Pofesen" are always a culinary delight.
Our tip: If you want to be sure when the iconic "Pofesen" are served at the Badstub'n in Gosau, you should inform yourself in advance. Either directly with the hut host or at the tourism office Gosau. That way your hike will be a double pleasure!
Events
Tue, Aug. 9, 2022 09:45 — 16:00 Sports ground Gosau, Gosau
Sun, Aug. 14, 2022 11:00 — 18:00 Badstubn Hütte, Gosau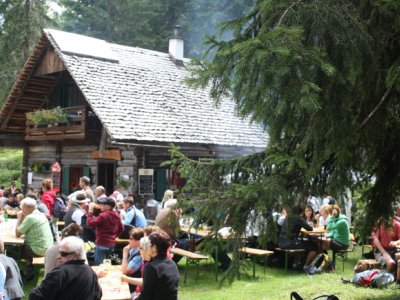 Sat, Sep. 10, 2022 09:45 — 16:00 Sports ground Gosau, Gosau
Sink into unique nature
The "Löckermoos" and the associated Löckersee lake in Gosau is one of Europe's most beautiful raised bogs. The small lake with impressive views of the mighty tines of Gosaukamm lies at an elevation of about 1400 meters and is popular with hikers, both big and small. The word "Löckern" comes from the Gosau dialect and refers to the nature protected mountain pine. When planning your vacation to the UNESCO World Heritage region of Hallstatt Dachstein Salzkammergut, you should not miss a visit to this natural wonder. Numerous "Guided walks" or the ascent with the Gosau slow train make this natural gem one of the most beautiful destinations in the Gosau Valley.