Water is just fantastic
Refreshing and revitalising, then soothing and relaxing or calming and connecting with mother nature. Around Lake Hallstatt and the Gosau Valley all swimmers and lovers of water get their money's worth.  Numerous lakes nearby, such as Lake Gosau or Lake Hallstatt invite you to take the plunge, dive in and dive down. And if you are looking for more adventure, our Sport shop Zopf in Bad Goisern on Lake Hallstatt is just right for you. With them you can explore the most beautiful paddling spots on Lake Hallstatt – be it in a kayak or a raft, of course always accompanied by a state-examined guide.
Not only relaxing - enjoy your holidays in an active way, a wide range of possibilities are waiting for you around Lake Hallstatt and the Gosau Valley. Hiking and mountain biking is getting more and more popular, but also rafting, canyoning, climbing, fishing, scuba diving, kayaking or simply jogging may be the ultimate recreation for a sporty tourist!
The adventure and fun factor of canyoning is impressively high and the variety is huge. Abseiling, jumping into water pools, sliding on water formed water slides and walking through an impressive nature.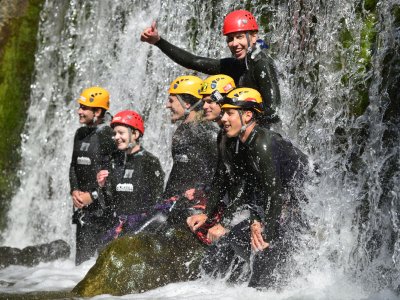 Whether sporty or comfortable on the safe side, kayaking is certainly one of the best forms of transportation on the calm waters of the Salzkammergut.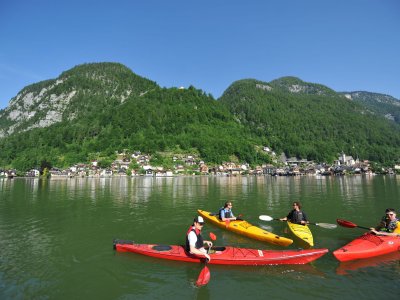 Diving | Salzkammergut: The crystal clear mountain lakes of Gosau and Hallstatt are amongst the most attractive diving areas in Europe. That is what makes diving in the Salzkammergut so appealing.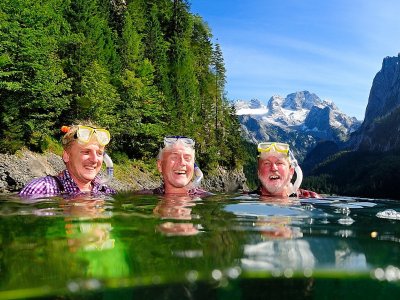 River Trekking
Who likes exploring the region from the river can do this on a kayak, a canoe or a trekking boat. Different variations offer a special "trekking experience" for beginners and advanced.
Always well-informed
When is the next cable car to the Dachstein Plateau in Obertraun? When does the next sightseeing ship depart from Hallstatt? With the four tourism platforms of the UNESCO World Heritage site of Hallstatt Dachstein Salzkammergut // www.hallstatt.net // www.bad-goisern.net // www.obertraun.net // www.gosautal.net // you will always stay up-to-date on current hours of operation, itineraries and more. If you'd like to use this information for during your stay in the holiday region of Dachstein Salzkammergut, then we would suggest that you save the appropriate website of your holiday destination in your favourites list on your smartphone or tablet. Then, you will always be informed during your holiday in the Salzkammergut. We hope to see you in Hallstatt, Gosau, Bad Goisern and Obertraun!
Kajaking
No matter if secure and relaxed or extreme, kayaking is surely one of the most beautiful ways to get along the waters of the Salzkammergut.
Rafting
The Traun River is a rafters paradise. The tour brings you through a breathtaking landscape, with 3 weirs to negociate. Hallstatt, Bad Goisern on Lake Hallstatt, Gosau and Obertraun offers some really beautiful natural lidos. Surrounded by the fabulous mountain scenery and thanks to the excellent water quality, you can feel free to enjoy bathing and swimming there.

Please note!
How do storm warning beacons work?
Whether you're out in a rental boat from one of the numerous rental agencies on Lake Hallstatt or underway in your own vessel, there is always a potential for storms or high waves on the lake. Storm warning beacons call attention to the weather conditions in the area. The storm warning beacons (an orange, blinking spotlight) are positioned in the north and south so that at least one signal is visual from any point on the lake.
In this manner, water enthusiasts can be immediately warned in the event of strong winds or storms. You should be aware of and heed the respective signals. A quickly rotating light signifies an approaching storm. You should leave the water immediately!
A slowly rotating light means that a storm can arise at some point in the near future. You may remain on the water but stay close to shore. Should you find yourself in a dangerous situation, call the emergency number 130. Your boat rental agency is available to answer additional questions. We hope you have a memorable and safe outing on Lake Hallstatt. 
Questions?
If you have any questions on these topics, please contact the staff at Tourism Information.
Please note
Due to the current situation, changes can occur at any time. We look forward to your visit to the UNESCO World Heritage Region of Hallstatt Dachstein Salzkammergut and wish you a relaxing and restful holiday. See you in the heart of Austria.
Your editorial team.
Diving | Salzkammergut: The crystal clear mountain lakes of Gosau and Hallstatt are amongst the most attractive diving areas in Europe. That is what makes diving in the Salzkammergut so appealing.