Dachstein Cave Museum in Obertraun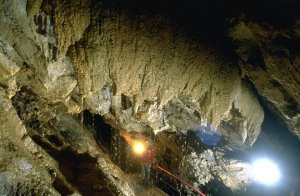 High exhibition
Museums in the Salzkammergut - there are a lot of them. But up on the mountain? This attraction can only be found in Obertraun on Lake Hallstatt. Because located here, at 1350 meters above sea level, is the Dachstein Cave Museum. The focus of the exhibition is the complex labyrinth of the unique cave worlds in the Dachstein massif. Other exhibits, in the rustic wooden huts, show the different aspects of the caves: the rock formations, the wildlife in the cave and their exploration. And when it starts to dribble? No problem! In the "Lousy Weather Cinema", guests of all ages can discover the cave labyrinths from the point of view of cave explorers whilst staying dry. A real insider tip not only for "cave explorers".
Our tip; Simply combine your museum visit, located to the at the changing point of the cable car to continue up to the summit of the Krippenstein, with an unforgettable excursion into the fantastic cave worlds. The magical Ice Cave and the no less popular Mammoth Cave awaits new "conquerors". And for all summiteers continue to the summit of the 2000 meter high Krippenstein with its numerous sights.
Information at a glance
Details
Location: Schönbergalm Obertraun. Accessible via the first section of the Dachstein Krippenstein cable car.
Admission: free
Opening hours: During the operating hours of the Dachstein Krippenstein cable car.

Opening hours
Dachstein Krippenstein cable car
Summer season 2018
Section I: Cave worlds


28.04. to 15.06. 2018


Frist cable car ascent: 08:40 hrs.
Last cable car descent: 17:10 hrs.


16.06. to 09.09. 2018


Frist cable car ascent: 08:40 hrs.
Last cable car descent: 17:40 hrs.


30.06. to 09.09. 2018


Frist cable car ascent: 08:40 hrs.
Last cable car descent: 19:10 hrs.


10.09. to 28.10. 2018


Frist cable car ascent: 08:40 hrs.
Last cable car descent: 17:10 hrs.
Ride every 15 Minutes