Hiking to the Hut Adamek in Gosau
Wanderung zur Adamekhütte
First the way to the Adamekhut seems to be an easy walk along the lake Gosausee. But then, an exhausting hike to the hut follows. The route into the never-ending ice from the east takes you over the Randkluft ascent. The following awaits you: well-secured, gentle to moderately-difficult via ferratas, also in the opposite direction (via the west ridge). You need to plan five to six hours for crossing from the Simony hut to the Adamak hut or vice versa. The descent into the valley can be undertaken on the same day. Since the ascent of the Dachstein is a high-alpine tour taking in the glacier, it is urgently
Gosau | Adamekhütte: Romantic hut located at the foot of the mighty Dachstein glacier at an altitude of 2.196m. The "station of the Alps" will inspire you!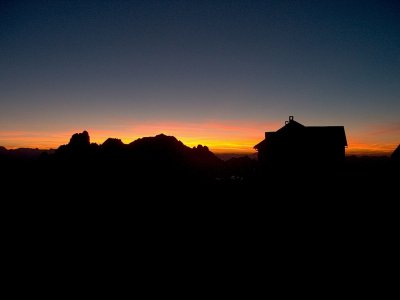 Safety Tips for Hikers
Admittedly, the landscape of the UNESCO World Heritage region of Hallstatt Dachstein Salzkammergut is the absolute pinnacle for hiking fans, mountain enthusiasts and nature lovers—unforgettable tours to incredibly beautiful mountain lodges and meadows, panorama views as far as the eye can see and cherished moments that will last a lifetime! However, you should remember that while hiking you might find yourself in high-alpine terrain. We've put together some resources to assist you: how to best prepare for your tour, recommended items for your backpack and steps to take in an emergency situation. Remember to always play it safe and enjoy your hiking adventure in the Salzkammergut!
Colourful light shows
Tranquillity, as you have never experienced it before. Get up early in the morning, before sunrise and stand in front of the hut and be immediately surrounded by the unspoilt nature of the UNESCO World Heritage region of Hallstatt Dachstein Salzkammergut. Birds sing the first song of the day. Cowbells ringing in the distance, enjoy your morning coffee on the hut bench while tasting the fresh air - that's what people from all over the world find fascinating about a magical overnight stay in a hut in the holiday region of Dachstein Salzkammergut. Relax your eyes and gaze into the distance, forget everyday life, soak up the rays of the sun, feel the wind on your skin and just unwind. So have we filled you with desire? What are your criteria for a hut night?
Information at a glance
Tour information:
Duration: 5 hours
Length: 14.6 km
Metres of altitude: 1407m
Lowest point: 926m
Highest point: 2186m
Difficulty: difficult
Panoramic view: Great panorama
Contact
Adamekhütte Gosau
Adamek hut
Adamekhütte
Kirchenstrasse 41
4824 Gosau
Austria
Phone: +43 (0) 664 5473481
E-Mail: office@adamek.at
Homepage: www.adamek.at
Safety Tips for Hiking
The best tips for tour preparation, equipment and emergency situations while hiking in the UNESCO World Heritage Region of Hallstatt Dachstein Salzkammergut at a glance. Remember to play it safe!
Should a situation arise where recuse services are required,
you can obtain the needed help under the number 112.