A pioneer of the Dachstein mountains
Simony monument
On 20th July 1896 the greatest Alpine explorer Friedrich Simony died. Due to his scientific works and his sensational ventures into the Dachsteingebiet the name of Simony is closely associated with the history of Hallstatt. The pioneer of alpinism, wintermountaineering and tourism earned lasting renown as a scientist, and above all as a researcher of lakes, glaciers and the Ice Age. In drawings, paintings and photographs he recorded the previously unknown world of the Dachstein.
Through his friendship with the poet Adalbert Stifter, the Dachstein has taken its place in world literature.
Hallstatt owes a not insignifi cant part of its fame to Friedrich Simony, who lived and worked here for over half a century. On 8th September 1842 Friedrich Simony and the Hallstatt mountain guide Johann Wallner completed the fi rst ascent to the summit of the Dachstein from East to West. Johann Wallner - a mountain guide from Hallstatt, a true companion to Friedrich Simony. 1842 In December Professor Simony and his guide Johann Wallner completed the fi rst winter crossing of the Dachstein glacier.
Entdecken Sie die unberührte Natur am Fuße des Dachsteins
Day hike on the high plateau with numerous further hiking options.
From Hallstatt through the Echerntal valley, or by cable car to 1884 m above sea level and through the karst landscape. Really fantastic! Surefootedness and mountain experience required.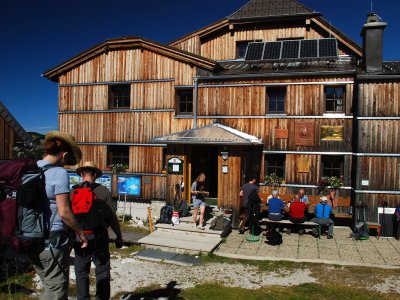 The recently established Nature trail on the Dachstein plateau is an important component of the World Heritage Hiking world. This trail travels across the karst plateau and "lures" with pristine high alpine scenery.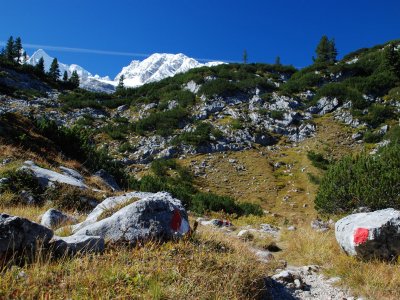 Colourful light shows
Tranquillity, as you have never experienced it before. Get up early in the morning, before sunrise and stand in front of the hut and be immediately surrounded by the unspoilt nature of the UNESCO World Heritage region of Hallstatt Dachstein Salzkammergut. Birds sing the first song of the day. Cowbells ringing in the distance, enjoy your morning coffee on the hut bench while tasting the fresh air - that's what people from all over the world find fascinating about a magical overnight stay in a hut in the holiday region of Dachstein Salzkammergut. Relax your eyes and gaze into the distance, forget everyday life, soak up the rays of the sun, feel the wind on your skin and just unwind. So have we filled you with desire? What are your criteria for a hut night?
Entdecker, Künstler, Wilderer – Entdecken Sie den....
Past beautifully designed information boards. On the trail of naturalists and landscape painters. Short and easy, but hugely rewarding and interesting themed hike. Walking time for the circular hiking trail: 3 - 4 hours. Enjoy the "Themed trail Hallstatt Echerntal" in Hallstatt.